School Trips
SBC have issued a letter/email to all parents regarding refunds for the trips that have been cancelled. Copy below –
Dear Parent/Carer
Scottish Borders Council is working with all schools who have had overseas or domestic school trips cancelled to secure refunds either through the companies who have provided the trip or through insurance companies.

Thank you to all our families for your patience while we have collated the details of payments made and refunds due.

We are very aware that the current situation may have caused a change in the financial circumstances for many families and that money you have already paid for cancelled trips would be welcome at this time. Therefore it has been agreed that Scottish Borders Council will make funds available to provide refunds for all families at this time and SBC will pursue the return of the money separately.
The mechanism to make these repayments will be through Parentpay. This system allows us to make payments directly into bank accounts. Any family who doesn't have a Parentpay account at the moment is asked to create one. You can do this by contacting your school and requesting your account activation details. If using this system is not possible for you please contact your school to discuss an alternative provision.

Please be aware that the arrangements above relates to trips which were due to be complete by the summer holidays.  We await further information on trips arranged for the new school session and schools will communicate directly with parents on these plans.

It is anticipated that the refunds will be in parents' accounts within the next few weeks.
Regards
Tracey Logan
Chief Executive
School Uniform
We are delighted to announce that our KHS uniform will now be supplied by FP Uniformz, part of the Fantasy Prints brand based in Berwick-Upon-Tweed. They are now our sole suppliers of all our uniform.
Please have a look at this promotional flyer.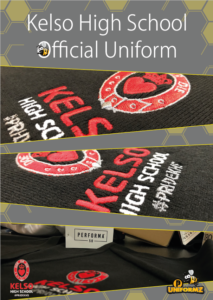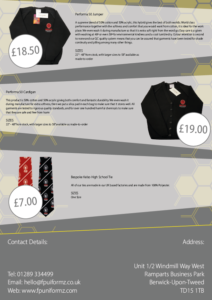 FP Uniformz kindly made this video, showing how they make and supply our new uniform. This is a very interesting watch! https://youtu.be/yIsUfOeJMz4
The uniform remains unchanged, apart from our new KHS logo which will be on all the jumpers, cardigans and ties. S1 to S5 pupils will still be required to be wear a black jumper/cardigan with the red tie, and S6 pupils will be in discussion regards a different coloured jumper and the black tie.
We do not expect all parents to rush out and spend lots of money replacing uniform if they don't need to. We will be using a phasing out approach meaning that all pupils can wear jumpers/ties with both the old logo and the new logo. It just means that the uniform with the old logo will no longer be available to purchase. When the time comes to replace your young person's uniform, you can purchase the new uniform with the new logo. So please don't feel pressured into buying new uniform if you don't have to.
S6 uniform – this is currently on hold for the time being, but more information will come out in due course.
The uniform is available to purchase direct from FP Uniformz via their website and this can be delivered either to your home (charge applies) or direct to the school for collection (free of charge): https://www.fpuniformz.com/schools/high-school/kelso-high-school.html
The School Office will still carry a stock of uniform that is available to purchase – at the moment we only have a small selection of uniform with the old logo which will be available for a reduced price. We plan to hold a stock of the new uniform once we are all back to School and able to do so.
If you have any questions at all regarding uniform and these changes, please contact Mrs Wilson in the School Office who will be able to help you.
Staffing Update
As we welcome back Mrs Bertram from her maternity leave, I would like to take this opportunity to send our best wishes to Miss Wootton and thank her for her ongoing support within the Art Department and the wider school.
Digital Learning at KHS
Junior Students: S1 and S2
Although we had planned to move our timetable on from next week as per previous years, as a school we have made the decision to ask students to remain with their current members of staff. We will continue to deliver all learning remotely and it makes sense that our students continue to work with the staff they know rather than moving on to new teachers for the month of June.
Senior Students: S4-S6
Please can I ask that parents of our senior students to encourage them to daily check TEAMS and emails for updates with regards to assignments being set and opportunities to join online help sessions/live lessons. If there are any issues or concerns, youngsters can email their teacher directly or contact the school directly using our email address.
Please find attached a copy of our 'Good Practice for all our learners': guide to some simple steps to ensure they get the most for their digital learning.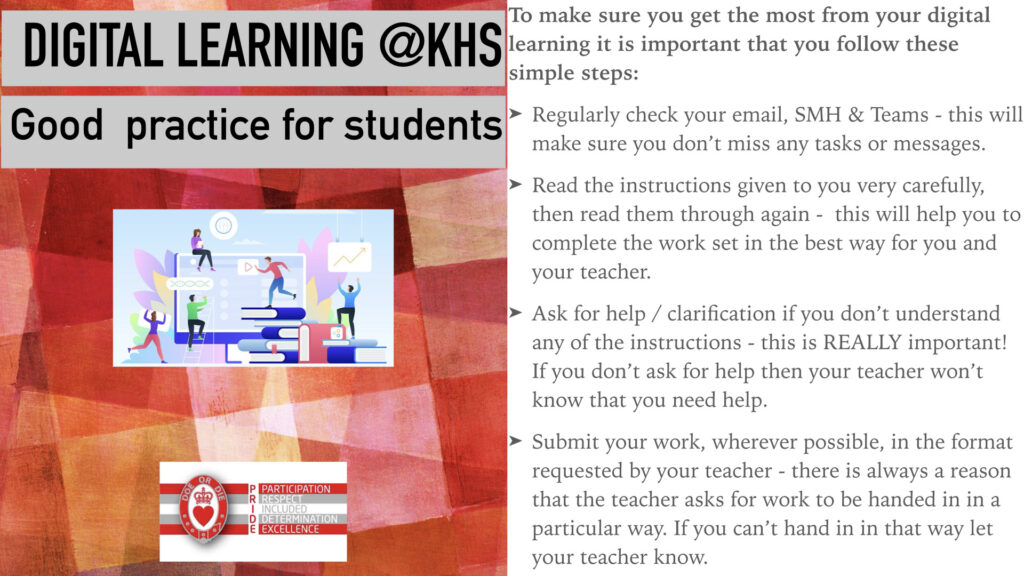 Return to School
There will be a formal correspondence from SBC regarding our proposed plans for our return to school on the 11th August. As per National Guidance it will be a blended learning approach with in-school learning with reduced numbers and home learning.
There will be also be further details shared with regards to transition for certain year groups. Our leavers will be given the opportunity to come into school for a final farewell and return their ipads etc. Also we continue to share our ongoing programme of transition for our P7's.