P7 Transition - Parent/Carer Section
Session 2023/24
Please see a copy below of the presentation that was shared with parents on the recent P7 Parents Evening on 18th April 2023.
Our school uniform is supplied by FP Uniformz, part of the Fantasy Prints brand based in Berwick-Upon-Tweed.
At KHS we pride ourselves in how smart our young people appear in their uniforms and believe a dress code encourages a sense of belonging. We ask all parents to support this and ensure all our young people follow the dress code every day.
The school dress is as follows:
White shirt
Black school tie
Black skirt/trousers
Black jumper/cardigan (S1-S5)
Black shoes (not trainers)
The school carries a small stock of jumpers and ties which can be purchased directly from the school office and paid for by cash or cheque. You can also purchase direct from FP Uniformz via their website and this can be delivered either to your home (charge applies) or direct to the school for collection (free of charge).
At KHS we mainly use ParentPay for payment of food and drink from the canteen, excursions/trips and some necessary course costs. Although the School Office can accept cash/cheque if you are unable to use ParentPay. You may already be familiar with this system after using it during your child's Primary School years, however their ParentPay account does not follow them from Primary to High School. The account is closed when the finish P7. Therefore you will need to activate the new account, details of this will be sent to you in due course.
The canteen offers a wide range of delicious food and drink for pupils. We operate a cashless system in our canteen, meaning that pupils can either put money into one of the machines within the canteen area via their biometric fingerprint or pin number. Parents can also top up their account via ParentPay to spend at the canteen. 
Pupils are able to pre-order and pay for items from the canteen using the Fusion app on their mobile device. This will help to reduce queues at lunchtime. The app works alongside the existing cashless catering system used by school catering teams and is linked to ParentPay and the Young Scot card.  The funds are added on to the pupil's account in exactly the same way as before – i.e. using ParentPay (online) or the reval units (cash) in schools.
Good communication between parents/carers and the school if vital. You can contact us either by phone or email if you have any queries, and the School Office will endeavour to help or pass on to someone who can. It is essential that you keep all contact details up to date with the School Office.
Every week we send out a 'Weekly Update' to parents filled with lots of information about anything that has been happening during the week at KHS and any important information we need to share with yourself. This is sent by email and also by Groupcall Xpressions with a link which will take you to the page on the website.
For urgent notifications such as for absence monitoring, we send this via Groupcall texts and Xpressions. For anything not quite as urgent, we send emails and use Xpressions. We strongly urge all parents/carers to download the Xpressions app which is completely free and easy to use.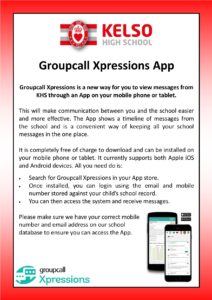 We have our own Parent Council which we urge as many parents to get involved in. More information about their role can be found in the document below. They also run a 3 number lottery which is a major fundraiser for the school to support activities for all pupils. If you wish to join the 3 number lottery, the form is below and it just needs completed and returned to the School Office. The Parent Council take written requests for funding any activities for pupils etc. More information and forms below.
What happens at our Parent Council meetings
Parent Council Lottery Mandate
Important Documents/Forms to Download