St Andrews Day Holiday
A reminder that the school is closed to pupils and staff on Monday 30th November.
Face Coverings
Following the news that pupils in the school have used over 2000 masks in the last month, the Climate Action Committee have come up with a way to try to reduce the use of disposable masks in Kelso High School.
From Tuesday 1st December, a stall will be set up in the canteen at the beginning of the day, end of break and end of lunch. Any pupil needing a mask should go to the stall where they can scan a code so that we can record who is using a disposable mask provided by the school and how many they are using. At the end of each week, the house that has used the least amount of disposable mask provided by the school will receive house points.
We also have a supply of reusable masks that have been kindly donated to the school which can be given in return for a small donation.
KHS Dyslexia Hub
Kelso High School are launching a new group for dyslexic learners (including those who think they may be dyslexic). This will run on Mondays during P5. To keep the groups a manageable size, each week will focus on a different year group and will rotate over the month. A reminder will be added to the daily bulletin.
In the Dyslexia Hub we will look at all sorts of things including:
using technologies, including iPads
strategies to support dyslexia in everyday life – organisation, memory, concentration etc
coping with stress, including exam stress
study skills/homework
understanding the neuro-diverse brain
Monday 7th December P5 (1.15 – 2.00) S1
Monday 14th December P5 (12.25 – 1.15) Senior Phase pupils
Monday 11th January P5 (1.15 – 2.00) S2
Monday 18th January P5 (1.15 – 2.00) S3
Please let your Pastoral teacher know if you plan to attend. Groups will meet in Support for Learning with Mrs Dyer.
KHS Parent Council Lottery Draw – November 2020

The numbers drawn were 13, 17 and 19

Unfortunately there were no winners so the prize fund of over £300 will roll over to next month!
To be in with a chance of winning please complete the below application form and hand into the School Office.
Next Parent Council Meeting
The next meeting is scheduled on Tuesday 1st December at 7pm via Zoom.
Login details below:
https://zoom.us/j/95733649124?pwd=MDRvY0JoZGFnK3MweTJvN0crbm5LQT09
Meeting ID: 957 3364 9124
Passcode: 298190
Look forward to seeing you all there!
Climate Action Committee
The Climate Action Committee have created this poster to inform everyone about sustainability at Christmas time.
Lunchtime Football Awards
The football nominations this week from Laura are:
S1
Team player – Daniel Lawson
Most improved – Dylan Marriott
Participation – Alfie Smith
S3
Team player – Dale Adams
Most improved – Lewis McIntee
Participation – Adam Moir
Stepping Stones
Stepping Stones have now established new dedicated practice facilities at The Planet next to the Borders Ice Rink. Modern, welcoming and relaxing, our newly refurbished practice enables us to offer community based support for emotional wellbeing. We have taken all the necessary measures to enable us to see individuals in person, but can also provide support remotely via video call or over the telephone.
Requests can be made directly by contacting us at steppingstones@cheviotyouth.co.uk
Cheviot Youth Christmas Appeal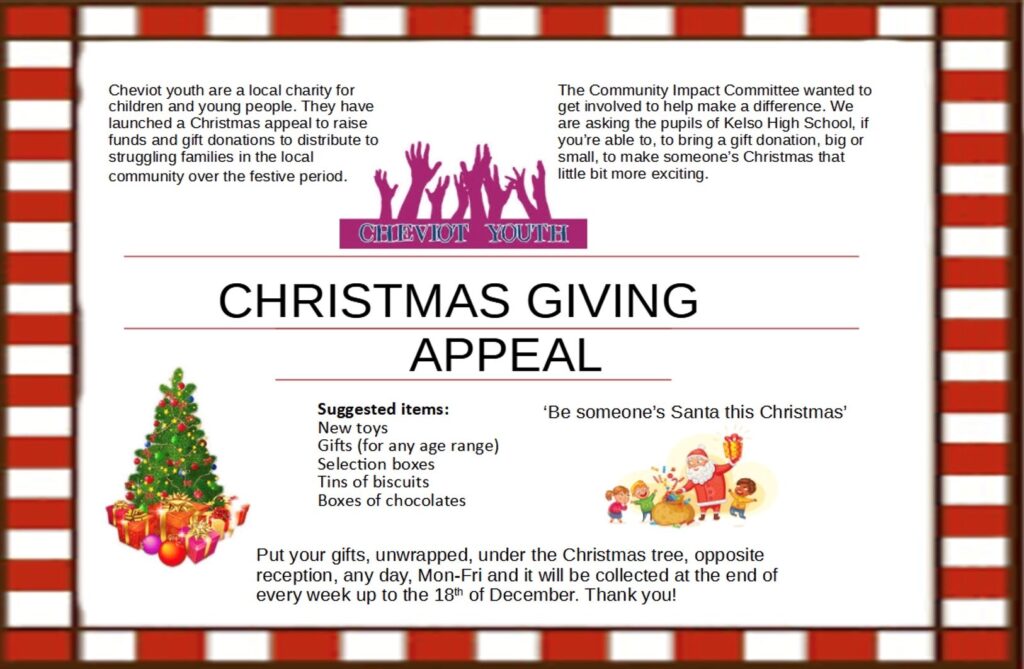 KHS Canteen w/c 30/11/20
| | | | |
| --- | --- | --- | --- |
| | TUESDAY | WEDNESDAY | THURSDAY |
| Scottish Favourites | Roast Beef Dinner, Haggis with Turnips and Potatoes or Vegetarian Sausages with Mashed Potatoes | Curry Day | Fish & Chips, Chicken Chow Mein or Cheese Omelette with Chips |
| Hot Sandwiches | Cook's Choice or Panini | Cook's Choice or Panini | Cook's Choice or Panini |
| Cold Sandwiches | Selection of Cold Sandwiches | Selection of Cold Sandwiches | Selection of Cold Sandwiches |
| Jacket Potato | Cheese, Beans or Salad Bar | Cheese, Beans or Salad Bar | Cheese, Beans or Salad Bar |
| Pizza/Pasta | Cheese Pizza or Pasta King | Cheese Pizza or Pasta King | Cheese Pizza or Pasta King |
| Soup | Tomato | Sweet Potato and Chilli | Vegetable |
Gluten Free options also available.
All these meals can always be ordered early in the day or on the day before as a Grab and Go to save pupils waiting at lunchtime.
Job / Apprenticeship Opportunities
https://www.scotjobsnet.co.uk/browse-jobs/scottish-borders/
http://apprenticeshipsinscotland.com/?s=&location=scottish+borders&ptype=job_listing&latitude=&longitude=&full_address=&north_east_lng=&south_west_lng=&north_east_lat=&south_west_lat=&radius=0