School Holiday
A reminder that the school will be closed to all pupils and staff on Monday 29th November.
S6 Head Team Update
This week has seen a buzz amongst staff as we launched our "decorate a window or door"competition. Staff have from the 1st of December to create their displays. Entries will be judged in the last week of term and we look forward to seeing them!
We are also beginning to plan for Christmas activities and look forward to busy month ahead. Although some restrictions still apply we are working hard to find alternatives and hope we can bring some festive cheer!
In other news seniors are working hard for their upcoming assessments. Many S6s are also finalising their UCAS applications ready to send off before Christmas.
Have a good long weekend, Head Team
Celebration of Achievement
This week we had our virtual Celebration of Achievement evening on Tuesday and also presented the winners with their awards today.
Please visit the link below to view the full Celebration of Achievement programme:
S5/6 Parents Evening
Thursday 25th November was our S5/S6 Parent/Carer evening. We have had a variety of feedback and would like to gather some more information. Please could S5/6 parents complete this short survey:
https://forms.office.com/r/AqYA4CUj3v
Communication with Home
At the beginning of this session, the school implemented the use of groupcall texts and emails to allow us to communicate more regularly with home. We introduced our individual positive emails from class teachers along with a daily groupcall for our agreed focus areas.
Following feedback from parent/carers along with staff we are altering our communication slightly. Our weekly positive emails will continue however our daily groupcalls messages for the following categories will now be replaced with a weekly summary. Staff are being asked to log occasions when a young person:
uses inappropriate language within the class or corridors
uses their mobile phone/iPad inappropriately
does not attend class
requires Time Out of a lesson
behaves unacceptably in the corridor
For each week, we will monitor and send home a letter with a summary. For many of our young people the use of these groupcall texts have not been required and we will continue to promote our values.
Parent Council Lottery Draw – November 2021
The numbers drawn were 3, 4 and 7
Unfortunately there was no winner this month.
The prize fund of approximately £880 will roll over and be drawn at the end of December.
To be in with a chance to win please download and complete the application form – Good Luck!!
SBC Mental Health & Wellbeing Newsletter
Please see newsletter below for parents.
Visit Kelso – Christmas
See flyer below for events running in Kelso in December.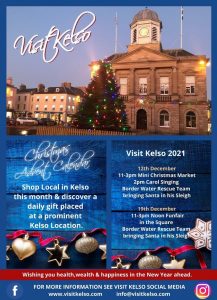 Canteen Menu
| | | | | |
| --- | --- | --- | --- | --- |
| | Tuesday | Wednesday | Thursday | Friday |
| Main 1 | Spaghetti Bolognaise Mixed Salad | Chicken Korma with Rice and Poppadoms Mixed Salad | Fish and Chips Peas | Bacon Roll |
| Main 2 | Steak Pie with Roast Potatoes Vegetables | Chicken Tikka with Rice and Poppadoms Mixed Salad | Quorn Sausages with Chips Peas | Sausage in a Roll Veggie or Vegan Sausage in a Roll Sausage Roll (pastry) |
| Main 3 | Cheese and Tomato Quiche with Roast Potatoes Vegetables | Vegetable Curry with Rice and Poppadoms Mixed Salad | Chicken Paella Mixed Salad | Beef Burger Quorn Burger in a Roll |
| Soup & Bread | Lentil Soup | Sweet Potato and Chilli | Chicken Noodle | N/A |
| Cold Sandwiches | Cheese, Tuna, Chicken, Egg, Roast Beef | Cheese, Tuna, Chicken, Egg, | Cheese, Tuna, Chicken, Egg | Cheese, Chicken, Tuna, Egg, Ham |
| Hot Sandwiches | Sweet Chilli Quorn or Chicken | Roasted Vegetables and Mozarella or Chicken | Quorn Nuggets or Chicken | Cheese and Ham Panini Cheese Panini Cheese and Tomato Pizzini Spicy Chicken Pizzini |
| Baked Potato | Beans, Cheese, Salad Bar | Beans, Cheese, Salad Bar | Beans, Cheese, Salad Bar | N/A |
| Pasta King | Cook's Choice | Cook's Choice | Cook's Choice | N/A |
| Pizza | Cheese | Cheese | Cheese | N/A |
| Additional Veg | Vegetable Sticks | Vegetable Sticks | Vegetable Sticks | Vegetable Sticks Pasta Salad |