Summer Break
As we approach the end of a very busy term and the summer holidays, I would like to take this opportunity to thank you all, once again, for the support and resilience shown over this last year.
A reminder that our summer break will begin tomorrow, 24th June with staff returning on Monday 16th August and our young people on Wednesday 18th August.
Alternative Certification – sharing of Provisional Grade
You will be aware that, as part of the SQA's Alternative Certification Model our teachers have been busy determining provisional grades for our young people, which will be submitted to the SQA by Friday 25th June.
Our young people along with parent/carer's should have received an individual email from the school on Monday 21st June at approx. 4.30pm outlining their own results.
A reminder that members of the Senior Leadership Team will be available in school on Tuesday 10th August and Wednesday 11th August to discuss any concerns or issues following the final confirmation of results from SQA.
Staffing
As our school year comes to an end we say farewell to a number of our staff. We would like to wish them the very best for the future.
Mrs Milligan (DHT), Mrs Stewart (PT Science), Miss Easton (Physics Teacher), Mr Plenderleith (Maths Teacher), Mr Meldrum (CDT) along with our probationer teachers Mr Ghani (Computing) and Miss Horrocks (Art)
Support for Learning Garden Party
The sun shone for the Support for Learning garden party to celebrate our young people who have achieved their N1 – 2, Skills for Life and Work, English, Maths, Food, Health and Wellbeing, and Improving Wellbeing through sports and fitness.
Huge congratulations to Kellyann Williamson, Chloe McIntosh, JD Stoddart-Shannly, Bradley Sinclair, and Aidan Whitson. Their willingness to take on every challenge in building future skills for life and work was outstanding.
Lots of emotions on the day, but the strongest emotion of all was absolute pride in our young people.
Special thanks to all staff involved.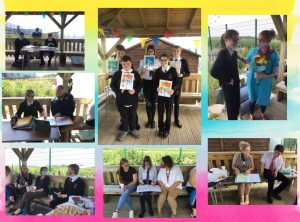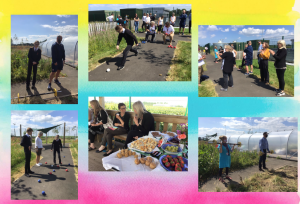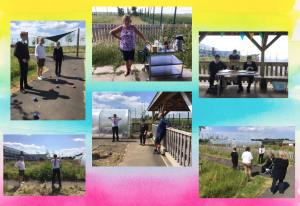 Sporting Achievements
Congratulations and well done to the following young people who have been selected to for the South Schools U15 squads in Hockey.
Girls Squad: Ruby Laing; Ailsa Ogilvie; Erin White
Boys Squad: Zac Bridgewater; Arran Gibb; Finlay Lawson; Dylan Marriot; Archie McIntosh; Ben Moir; Aidan Richardson; Matthew Stewart; Finlay Wight; Callum Woodcock
Uniform
If you need to buy uniform over the holidays – please order from https://www.fpuniformz.com/product-category/schools/high-school/kelso-high-school/
You can get free delivery to KHS by selecting 'free delivery to club'. The school office will be open most of the summer to pick up uniform orders.
See flyer below for guaranteed delivery dates for orders.
S6 uniform will be coming in a separate bulk order and communication will be sent out when they are ready to collect during the summer. If you are still due to pay for your order please do so as soon as possible.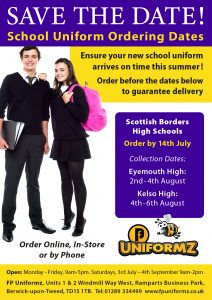 Music Instruction Service
If your young person is interested in receiving music instruction, please have a look at the link below and speak to their music teacher.
https://sway.office.com/F2Y4Gs89UHVNxT3a?ref=Link