Covid-19 Health and Safety
The Covid-19 risk reduction measures will continue to be applied within school. Please can you encourage your youngster to have their own face covering and continue to take part in asymptomatic testing.
National Qualifications 2022
SQA continues to provide updates on the current plans for pupil assessment in National 5, Higher and Advanced Higher qualifications. https://blogs.sqa.org.uk/qualifications2022/sqa-national-qualifications-assessments-2021-22-a-message-for-parents-and-carers/
Our senior phase prelim assessments are planned to take place in December. A timetable will be shared nearer the time.
Extra-Curricular Sports
One of the highlights of last term was that our extra-curricular sports are being enjoyed again by our young people. We encourage our young people to get involved.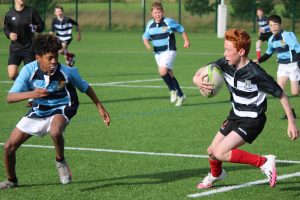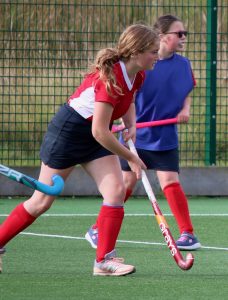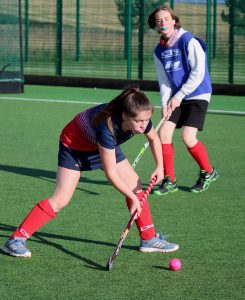 Social Subjects Super Stars
KHS Dyslexia Hub
Kelso High School are re launching a support group for dyslexic learners (including those who think they may be dyslexic). This will run on Wednesdays during P5.
To keep the groups a manageable size, each week will focus on a different year group and will rotate over the month. A reminder will be added to the daily bulletin so don't worry if you forget.
In the Dyslexia Hub we will look at all sorts of support strategies including:
KHS Dyslexia Ambassadors
use of technologies, including iPads to support dyslexic difficulties
strategies to support dyslexia in everyday life – organisation, memory, concentration etc.
coping with stress, including exam stress
study skills/homework
understanding the neuro-diverse brain
Session 1:
S1 – Wednesday 27th October P5 (1.15 – 2.05)
Seniors – Wednesday 3rd November P5 (12.25 – 1.15)
S2 – Wednesday 10th November P5 (1.15 – 2.05)
S3 – Wednesday 17th November P5 ( 1.15 – 2.05)

Session 2:
S1 – Wednesday 24th November
Seniors – Wednesday 1st December
S2 – TBC due to Senior Phase Assessments likely to be January.
S3 – TBC due to Senior Phase Assessments likely to be January.
Please let your Pastoral teacher know if you plan to attend.
A register will be taken each week to ensure the office are aware of pupils attending. Groups will meet in Room 2041a Support for Learning with Mrs Dyer. Please bring your iPad!!!
If you have any questions, please get in touch with Mrs Dyer, PT Support for Learning.
Groupcall Xpressions
We would encourage all parents/carers to download the Groupcall Xpressions app on your phone. This allows for very quick and easy two way messages between yourselves and the school.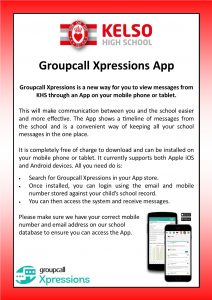 Flu Vaccine Forms
Please ensure you have completed the flu vaccine forms that were given out earlier last term. These must be returned to the School Office as soon as possible.
KHS Parent Council
The new chair of our Parent Council is Harriet Campbell, who has children in S2 and S3. My sincere thanks to Gemma Douglas for her support and contribution in this role over the last 2 years, particularly during the ever-changing phases of the pandemic.
Harriet and the other members of the Parent Council are very keen to invite new members to join our meetings.
There is also a Facebook group that parents can join to keep up-to-date with the Parent Council: https://www.facebook.com/groups/240142480962294
Virtual KHS Parent Council Meeting 28/10/21

The next KHS Parent Council meeting will be held on Thursday evening (Thursday 28th October) at 7.30pm via Zoom.

Option to log into Zoom either through their app or web browser, link below:
KHS Parent Council Meeting 28/10/21
https://us06web.zoom.us/j/85840476455?pwd=a2xINCtxeU1mWHpKYVBDQ0wrQURBZz09
Meeting ID: 858 4047 6455
Passcode: 791093
Kelso Camera Club
We normally meet as a Club on a Thursday evening at Abbey Row but due to Covid 19 restrictions we are meeting online.
We are holding an open meeting on Thursday 28th October at 19.00.
The aim of the evening is to provide everyone with the basic knowledge required to take their photography beyond their mobile phones.
We all take photographs using our mobile phone but you are not really in control. To become a photographer you need to take control of the photographic process and to do that you need to understand the basics. This session aims to give you the basics, help you understand why a camera is so much better than your phone and set you on the road towards becoming a creative photographer.
For practical purposes anybody wanting to join the session must register beforehand. You can do this by emailing Dave at dvlcom.mail@gmail.com <mailto:dvlcom.mail@gmail.com>
He will arrange that the necessary link for the evening is sent out. You must be at least 16 years of age although some members of the Photography class may be allowed.
We would love to have you along on the night. You never know, you might enjoy it so much you may want to come along to other meetings!
DYW Upcoming Opportunities
Scotland Biggest Parents Evening – Monday 15th November 7pm
This year SBPE features a National Launch Event, taking place on Monday 15th November at 7pm, along with a series of more local events and activities across the rest of the week and social media activity. The SBPE National Launch Event features key information which over 880 parents, carers and guardians in Scotland told us was important to them. This includes information about Careers, Jobs, Pathways, Skills and Scotland's Young Person's Guarantee. The event also has a focus on young people with additional support needs through our partner Enable Scotland. I have attached a document for more information regarding this opportunity.
LINK to sign up – Scotland's Biggest Parents' Events – DYW – Scotland
Scottish Careers Week – 15th – 19th November 2021
During the week, you can discover more about Scotland's career service and how you can get the support you need to achieve the career you want. It's brought to you by Skills Development Scotland – Scotland's national skills body. We deliver Scotland's career service in schools, in local career centres across the country and online, here on My World of Work. Whether you're a school pupil, employer, teacher, parent or looking to take your next career step – you can get involved in Scottish Careers Week. Find out more about the careers support we offer. LINK – Scottish Careers Week | My World of Work
Skills Scotland Digital Event – 16th November 9:30am – 4:30pm – Online event
A digital Skills Scotland Glasgow event held on Tuesday 16 November between 9.30am-4.30pm. Whether you are a student, parent, teacher or just trying to figure out your next steps, Skills Scotland Glasgow is open to everyone. Visit our digital stall and find out more about the course and career choices. Speak directly with our Student Advice experts about studying at Glasgow Clyde College. This online event allows direct engagement with a wide range of local employers, colleges and training providers, you can use the live chat function to easily chat with exhibitors and ask questions, easy to download any resources into a personal swag bag and can view current vacancies, apprenticeships and training opportunities. LINK – Skills Scotland (vfairs.com)
Togetherall Information Session for Parents – 25 October at 7pm
Togetherall are inviting parents and staff to an online teams webinar to explain the service on Monday 25th Oct at 7pm. Please share in your normal (newsletter and social media) communications with parents. Everyone interested is most welcome. Togetherall provides a FREE, anonymous, clinically moderated support service featuring peer to peer support, oversight by a clinical team of 'wall guides', all of which is available 24/7, with courses on self-help and quality reading around mental health and wellbeing issues, incl. depression, anxiety, stress, social isolation, grief and more. This service has been funded by the Community Mental Health and Wellbeing Fund for one year to all over 16 yr olds (Incl. staff, parents and members of the community) living within Scottish Borders postal code area.
Would you like to find out more? Join Roisin Lynch from Togetherall by clicking on the Microsoft teams link below, on Monday 25th of October at 7pm.
Click here to join the meeting
WEBINAR session with Professor Ken Muir for parents/carers – Reform of THE Scottish qualifications authority and Education Scotland – 27 October
About this Event
The Cabinet Secretary for Education and Skills announced on 22 June 2021 the intention to replace the Scottish Qualifications Authority (SQA) and remove the function of school inspection from Education Scotland. Professor Ken Muir, University of the West of Scotland, has been appointed to act as an independent advisor to the Scottish Government to consider and advise on the implementation of these changes and consider all functions currently delivered by both the SQA and Education Scotland.
Professor Muir wants to hear the views and ideas from all those with an interest in Scottish Education. This webinar is an opportunity specifically for parents and carers with children and young people in education, to hear first-hand about this reform work, to express views and ideas about the kind of education system we want to see in Scotland for the future and to ask questions of Professor Muir.
When
The virtual webinar session will take place on Wednesday 27th October from 6 30 p.m. till 8 p.m.
How to book
Please use the link below to sign-up for the event. The event will be held via Microsoft Teams Live and the link to join will be sent the day before to the email address used by participants to register. Please click here to book – https://www.eventbrite.co.uk/e/193601315747
Canteen Menu
| | | | | | |
| --- | --- | --- | --- | --- | --- |
| | Monday | Tuesday | Wednesday | Thursday | Friday |
| Main 1 | Macaroni Cheese with Garlic Bread Mixed Salad | Steak Pie with Roast Potatoes Vegetables | Chicken Korma with Rice and Poppadoms Mixed Salad | Fish and Chips Peas | Bacon Roll |
| Main 2 | Roast Turkey in Gravy with Mashed Potatoes Vegetables | Grilled Salmon with Savoury Rice and Mixed Salad | Chicken Tikka with Rice and Poppadoms Mixed Salad | Omelette with Chips and Peas | Sausage in a Roll Veggie or Vegan Sausage in a Roll Sausage Roll (pastry) |
| Main 3 | Chicken Fried Rice Mixed Salad | Quorn Sausages with Roast Potatoes Vegetables | Quorn Korma with Rice and Poppadoms Mixed Salad | Beef Lasagne with Garlic Bread Vegetables | Beef Burger Quorn Burger in a Roll |
| Soup & Bread | Vegetable Soup | Lentil Soup | Sweet Potato and Chilli | Chicken Noodle Soup | N/A |
| Cold Sandwiches | Cheese, Tuna, Chicken, Egg | Cheese, Tuna, Chicken, Egg, Roast Beef | Cheese, Tuna, Chicken, Egg | Cheese, Tuna, Chicken, Egg, Roast Beef | Cheese, Chicken, Tuna, Egg, Ham |
| Hot Sandwiches | Garlic Mushrooms or BBQ Quorn | Vegetable Fajita or Chicken | Garlic Mushroom or Chicken | Veggie Nuggets or Chicken | Cheese and Ham Panini Cheese Panini Cheese and Tomato Pizzini Spicy Chicken Pizzini |
| Baked Potato | Beans, Cheese, Salad Bar | Beans, Cheese, Salad Bar | Beans, Cheese, Salad Bar | Beans, Cheese, Salad Bar | N/A |
| Pasta King | Cook's Choice | Cook's Choice | Cook's Choice | Cook's Choice | N/A |
| Pizza | Cheese | Cheese | Cheese | Cheese | N/A |
| Additional Veg | Vegetable Sticks | Vegetable Sticks | Vegetable Sticks | Vegetable Sticks | Vegetable Sticks Pasta Salad |