Altered Timetable
In order to minimise movement around school, as per Scottish Government guidance, alterations have been made to the timetable and these came into effect on Monday 17th. Students will have the same subjects with the same teacher but the timetable will run over 2 weeks. This allows for all students to get the same amount of time in each class but me4ans that there is only one single period a day (period 5) all of the others will now be double periods.
Wet weather plans
We would like to thank all of our students for their support and understanding around the changes that have been made to break or lunch. We continue to monitor this and have plans for inclement weather. However, it is important that students come to school prepared with a jacket to ensure they are comfortable at break and lunch times.
SQA 2020 National Qualifications appeals
As the Deputy First Minister outlined in Parliament, SQA will now award candidate results based solely on the estimates provided by schools and colleges. The results of those learners who were awarded a higher grade during the process will also be maintained. The SQA has communicated that young people will receive their updated certificates by Tuesday 8 September.
SQA have now provided information on the updated appeals process for schools. This process allows only three grounds upon which school can submit an appeal.
if a school discovers that an administrative error was made when they submitted their estimate or entry information for a candidate.
If a school's internal review process discloses that a candidate's estimate was affected by discrimination or other conduct by the school that is unacceptable under the Equality Act 2010.
Where a Head Teacher believes that there has been an error within SQA's internal processes for confirming results to schools following the 11 August announcement, they can also appeal.
SBC anticipates that only in exceptional circumstances will such appeals arise. Parents and young people will not be able to appeal against the estimate given by a class teacher.
Arrangements for National 5 to Advanced Higher courses in session 2020–21
SQA have launched a consultation to gather feedback on proposed modifications to course assessment in National 5, Higher and Advanced Higher courses in session 2020–21. As soon as we have any further information on this we will share with pupils, parents and carers.
Thank you for your continued support..
KHS Parent Council Virtual Catch Up
To allow all our parents/carers an opportunity to attend, we are planning on hosting a catch up meeting via Zoom on Tuesday 25th August @ 7pm.
Log into Zoom either through the app or web browser:
https://zoom.us/j/93342842350?pwd=T1BNa25CU1NsVVBkcktMZndHZm9KUT09
Meeting ID: 933 4284 2350
Passcode: 608157
We look forward to seeing you there.
ParentPay
Emails have been sent to parents yesterday who have not yet activated ParentPay accounts for their young people. If you received an email, please action this as we attempt to remove all cash and cheques from school.
Groupcall Xpressions
A reminder to all parents that we strongly encourage everyone to download the Groupcall Xpressions app. This is a fairly new way for you to view messages from us at KHS through the app on your mobile phone or tablet. You can message KHS direct through this app and notify the school about absence/attendance, or any other enquiries.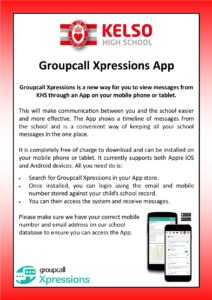 iPad Consent Forms
All new S1 pupils and others new to the school were given packs with their iPad's that contained a consent form. Can you please sign this and hand back to the School Office as soon as possible.
Office Hours
A reminder of the hours that the School Office is open. You can contact us by telephone (01573 227440) or by email (kelsohs@scotborders.gov.uk)
Monday – Thursday: 8.15am – 4.15pm
Friday: 8.15am – 1.20pm
Extra Curricular Sport
As we settle back into school life, one element that is still waiting to begin is Extra Curricular Sport. There is currently a pause on all Extra Curricular School Sport across the region. Work is on-going to ensure that we can move towards a restart as soon as possible and as more details are confirmed, these will be communicated.
Rugby News
Prior to our return to school, it was confirmed that Craig Dods was leaving his position as Rugby Development officer to take up a similar role in Galashiels. In his time with us, Craig developed not only players at KHS, but young coaches and referees. He worked with the PE Department to develop the School of Rugby Programme for S1-S3 players, increased links with external partners and increased our pool of volunteers.
We thank Craig for all his work and wish him all the best in his new role.
We can confirm that the recruitment process for a new Development Officer has taken place with Murray Hastie the successful candidate. We are very much looking forward to working with Murray (who will take up his post in September) to build the Rugby programme further over the next few years.
As with all sports, the return of Rugby is still very much unknown and we will continue to liaise with Scottish Rugby about their plans for how we may progress to matches eventually. Our season may look different, but work has taken place in terms of planning for coaching volunteers, training (once given the go-ahead) and also looking towards fund raising.
We would always welcome more people to assist with Rugby (in any way!) so if you feel you would like to assist or would like to know more, please contact Mr Brown at the school using the following email address gw15brownkevin@glow.sch.uk.
Hockey News
Following the news during lockdown, we would like to officially confirm that Mary Weir and Lynn Young have stepped down as school hockey coaches.
We would like to thank them both for their tremendous support of school hockey going back over many years.
Both Mary and Lynn have contributed an enormous amount of work, mostly behind the scenes, which has been of incredible benefit to our learners and school. They will continue to develop the Kelso Hockey Club as it grows and so many of our current students will still benefit from their coaching. We intend to ensure a proper thank-you when things return to normal in the new term.
Volunteer coach David Ferguson, who many will know as our recent S1s coach, will take over as our new Director of Hockey, and his philosophy is simple: hockey is about having fun and is open to everyone.
Exactly when the hockey season will start remains uncertain, as a result of COVID-19, but we aim to provide a worthwhile season of hockey for all age groups. We will be meeting imminently to develop our planning further and we will provide a full update on plans when appropriate to do so.
Kelso High School hugely values the Hockey programme and everything our supporters do for us as volunteers, and we will continue to provide support in administration, facilities and other ways. We do need to volunteers though and would love to hear from anyone who feels they can give even just a small amount of time (for any role!). If you think you can assist or would like to know more about how you could help, please contact David Ferguson on the following email address davidferg@btinternet.com.
With your help we hope to be able to sustain the KHS Hockey Programme long into the future.
Canteen
Food available from Monday 24th August:
MORNING BREAK
Bacon Rolls Sausage Rolls Scotch Pies
Nachos & Cheese Toasties Tray Bakes
Pastry Sausage Rolls (Monday, Wednesday, Friday) Muffins
LUNCHTIME
Burgers Cheese Burgers Pizza
Pizzini Scotch Pies Filled Paninis
Filled Baguettes Wraps Homemade Soup
Sandwiches Tray Bakes Muffins
Ice-lollies