Face Coverings
We continue to work with our Climate Action Committee to reduce impact on the environment. We continue to encourage our young people to invest in a reusable face covering however over the last month we have issued approximately 2000 disposable face. Thank you for your support.
KHS Parent Council – Update from Gemma Douglas (Chairperson)
A KHS Parent Council Meeting was held last Tuesday, thanks to all that attended.  The next meeting has been arranged on Tuesday 1st December at 7.00pm via Zoom, details will follow in due course.
As NPFS Representative I have been given lots of information relating to your youngsters education that will be of interest to you, copies of these are attached for you to review at your own convenience.
SBC recently sent out an email to parents and I wanted to highlight this to you as important information:
As you may be aware, The Children (Equal Protection from Assault) (Scotland) Act 2019 will change the law and remove the 'reasonable chastisement' defence from Saturday 7 November 2020. This means that all forms of physical punishment of children – including smacking – will be against the law in Scotland, and children will have with the same legal protection from assault as adults.
Further information on the Act is also available from the Scottish Government here.
In order to make both children and adults aware of the changes, the Scottish Government have also developed a number of resources which can be downloaded via www.scotborders.gov.uk/childprotection.
I will be hosting the first ever Parent Council Virtual Coffee & Chat Evening on Tuesday 24th November at 7.00pm via Zoom. All parents welcome. This is an opportunity to have an informal chat with myself and other parents, ask any questions, raise any concerns etc. The link to join the coffee evening is detailed below. I look forward to seeing you all there!!
https://zoom.us/j/97281607855?pwd=WXNZMGNIZk5OVlp6YUx3Y1dYcGJCQT09
Meeting ID: 972 8160 7855
Passcode: 058411
Engaging with the views and experiences of families with younger children during the Covid-19 Pandemic
Family life matters, and the impact of the Covid-19 pandemic on families must be understood if we are to ensure best efforts for recovery and make rights real for children. Children's Parliament has published 15 stories from parents, carers and children that capture experiences of the past tumultuous months at https://15stories.scot/ from lockdown to the return to nursery/school.
How does your school talk to you about costs and money? A survey for parents and carers
The National Parent Forum of Scotland (NPFS) and Cost of the School Day project at the Child Poverty Action Group in Scotland (CPAG Scotland) would like to hear from you about how your school community keeps in touch with you, particularly about costs and money. Whether you are living on a low income or haven't experienced this but have views about how your school communicates with you, we want to hear from you. Maybe there are things that you think your school does well, or perhaps you think there are things that it could do better? We want to hear what you have to say, so that we can let schools, parent councils, local authorities and the Scottish Government know what works and what could be better. What you tell us could make a real difference – click here for our survey. This survey closes on the 6th of December 2020.
Home Economics Recipe Books
Recipe books are available to buy in the Home Economics department. S1&2 books are available for £1 and S3 books are £1.50. Please ask your youngster to see their HE teacher if interested in buying one.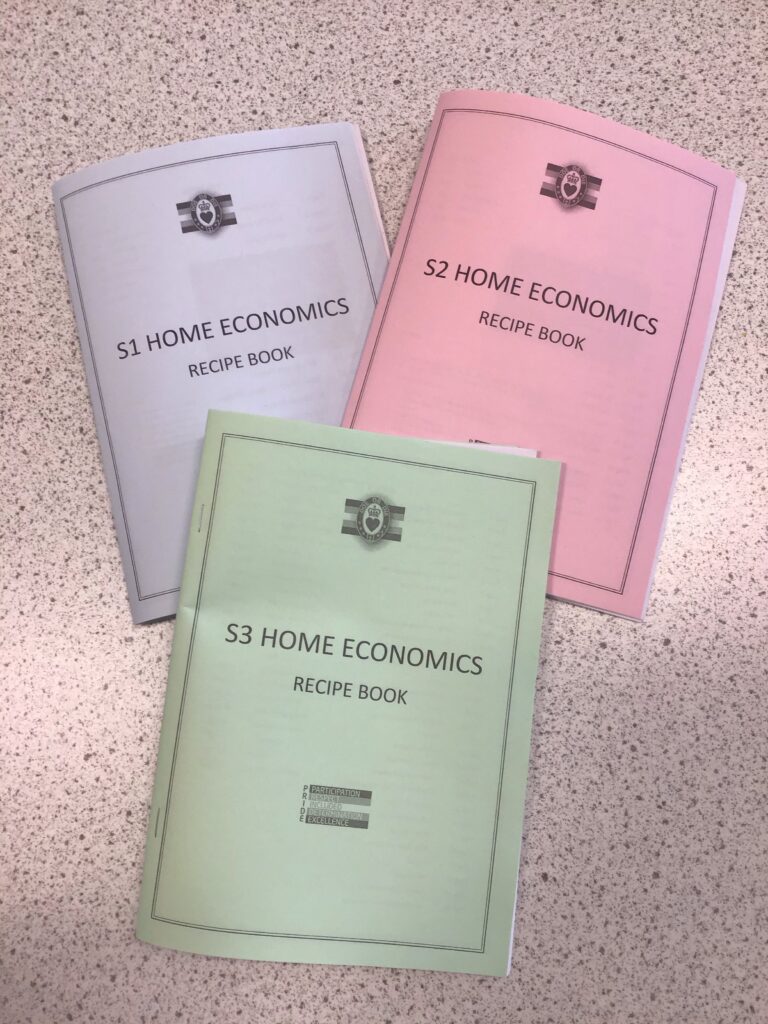 Lunchtime Football Awards
The football nominations this week from Laura are:
S1
Team player – Callum Woodcock 1B
Most improved – Olly Sullivan 1B
Participation – Dre Smith 1T
S2
Thanks for turning up for 5 minutes and hopefully see more of you next week.
S3
Team player – Will Prentice 3T2
Most improved – Dale Adams 3K
Participation – Danny James 3K
S4
Team player – Kyle Jackson 4T
Most improved – Charlie Finlow 4T
Participation – Fletcher Renwick 4B1
Thank you to Kyle Jackson for helping organise Mondays football with Laura.
KHS Canteen w/c 23/11/20
| | | | | |
| --- | --- | --- | --- | --- |
| | MONDAY | TUESDAY | WEDNESDAY | THURSDAY |
| Scottish Favourites | Chicken Fajita Style Rice, Spaghetti Bolognaise with Garlic Bread or Macaroni Cheese with Garlic Bread | Steak Pie with Roast Potatoes, Grilled Salmon with Roast Potatoes or Cheese & Tomato Quiche with Coleslaw | Curry Day | Fish & Chips, Chicken Goujons with Chips or Vegetable Chow Mein |
| Hot Sandwiches | Cook's Choice or Panini | Cook's Choice or Panini | Cook's Choice or Panini | Cook's Choice or Panini |
| Cold Sandwiches | Selection of Cold Sandwiches | Selection of Cold Sandwiches | Selection of Cold Sandwiches | Selection of Cold Sandwiches |
| Jacket Potato | Cheese, Beans or Salad Bar | Cheese, Beans or Salad Bar | Cheese, Beans or Salad Bar | Cheese, Beans or Salad Bar |
| Pizza/Pasta | Cheese Pizza or Pasta King | Cheese Pizza or Pasta King | Cheese Pizza or Pasta King | Cheese Pizza or Pasta King |
| Soup | Lentil | Tomato | Sweet Potato and Chilli | Vegetable |
Gluten Free options also available.
All these meals can always be ordered early in the day or on the day before as a Grab and Go to save pupils waiting at lunchtime.
Job / Apprenticeship Opportunities
https://www.scotjobsnet.co.uk/browse-jobs/scottish-borders/
http://apprenticeshipsinscotland.com/?s=&location=scottish+borders&ptype=job_listing&latitude=&longitude=&full_address=&north_east_lng=&south_west_lng=&north_east_lat=&south_west_lat=&radius=0