S6 Head Team Update
Last Thursday we held our Remembrance Service in front of the school War Memorial. It allowed the whole school to come together to remember those from Kelso and beyond who lost their lives in the Great War. It was a great honour to organise and lead the service and we would like to thank everyone for being so respectful. It was extra special as this year marks 100 years since the poppy was used as a symbol of remembrance and it was lovely to see so many people wearing a poppy for the service.
We also went round classes last week selling poppies and we would like to thank everyone who has donated to the poppy appeal. The donations will support ex-serving and serving personnel and their families.
We Will Remember, Head Team
S4 Parents Evening
Tuesday 26th November was our first online Parent/Carer evening. We have had a variety of feedback and would like to gather some more information. Please could S4 parents complete this short survey:
https://forms.office.com/r/hzYvy68QA4
S5/6 Parents Evening
The booking system is now open to book virtual appointments for the S5/6 Parents Evening taking place on Thursday 25th November. All the information was emailed to parents earlier this week.
Please note there is an issue between Apple devices (iPads/iPhones) that have been updated to the latest software(iOS 15.1) and the Parents' Evening system in which video meetings fail to connect.
We have been informed that Apple will fix this bug in their next software release (iOS 15.2) however this will not be done prior to our S5/6 Parents' Evening.
Please check that any Apple devices (iPads/iPhones) you intend to use for video meetings in Parents Bookings are not updated to iOS 15.1. Older iOS versions, including 15.0, 15.01, 15.02 and anything older (e.g. iOS 12, 13 or 14) will work as expected.
The issue is only with devices updated to iOS 15.1, which was released 15 days ago.
Celebration of Achievement Evening
On Tuesday 23rd November we will hold our belated Celebration of Achievement evening at 7pm. This event, normally held in September, celebrates the achievements of our young people during the academic year 2020-2021. Like so many other events, it has been delayed due to COVID and we will be holding the event virtually via Microsoft TEAMS.
Please join us if you can using the following link: https://bit.ly/3DtUBsy
S3 Rural Skills
Border College along with support from our Head Janitor are making excellent progress with our outdoor garden. Our supply of compost for next year is most definitely sorted!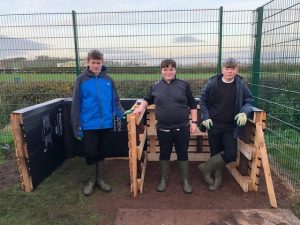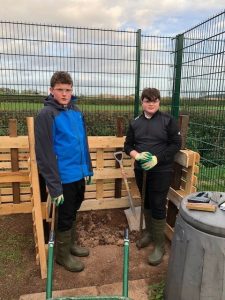 S6
Well done and thank you to our fabulous S6 who braved the windy weather over the past two days for the S6 photo shoot. Also a big thank you to Mrs Changleng for taking the photos.
Canteen Menu
| | | | | | |
| --- | --- | --- | --- | --- | --- |
| | Monday | Tuesday | Wednesday | Thursday | Friday |
| Main 1 | Macaroni Cheese with Garlic Bread Mixed Salad | Steak Pie with Roast Potatoes Vegetables | Chicken Korma with Rice and Poppadoms Mixed Salad | Fish and Chips Peas | Bacon Roll |
| Main 2 | Chicken Paella Vegetables | Roast Beef in Gravy with Roast Potatoes and Yorkshire Pudding Vegetables | Chicken Tikka with Rice and Poppadoms Mixed Salad | Omelette with Potato Salad Mixed Salad | Sausage in a Roll Veggie or Vegan Sausage in a Roll Sausage Roll (pastry) |
| Main 3 | BBQ Chicken Breast with Potato Salad Mixed Salad | Vegetable Chow Mein Vegetables | Vegetable Curry with Rice and Poppadoms Mixed Salad | Beef Lasagne with Chips Mixed Salad | Beef Burger Quorn Burger in a Roll |
| Soup & Bread | Vegetable Soup | Lentil Soup | Sweet Potato and Chilli | Chicken Noodle | N/A |
| Cold Sandwiches | Cheese, Tuna, Chicken, Egg, | Cheese, Tuna, Chicken, Egg, Roast Beef | Cheese, Tuna, Chicken, Egg, | Cheese, Tuna, Chicken, Egg, Roast Beef | Cheese, Tuna, Chicken, Egg, Ham |
| Hot Sandwiches | Garlic Mushrooms or Chicken | Veggie Fajitas or Chicken | Quorn Burger or Chicken | Quorn Dippers or Chicken | Cheese and Ham Panini Cheese Panini Cheese and Tomato Pizzini Spicy Chicken Pizzini |
| Baked Potato | Beans, Cheese, Salad Bar | Beans, Cheese, Salad Bar | Beans, Cheese, Salad Bar | Beans, Cheese, Salad Bar | N/A |
| Pasta King | Cook's Choice | Cook's Choice | Cook's Choice | Cook's Choice | N/A |
| Pizza | Cheese | Cheese | Cheese | Cheese | N/A |
| Additional Veg | Vegetable Sticks | Vegetable Sticks | Vegetable Sticks | Vegetable Sticks | Vegetable Sticks Pasta Salad |