Head Team
Huge congratulations to our new S6 Head Team who have been elected for session 2021/22. They are:
Arrianne Bathgate
Rebecca Middlemiss
Roseanna Prentice
Lexi Reader
Alternative Certification Model S4/5/6
All S4/5/6 learners will receive an email on Monday 21st June shortly after 4.30pm confirming the provisional bands that will be submitted to SQA on the 25th June.  If learners would like to discuss their provisional bands further, Principal Teachers will be available at the following times on Tuesday 22nd June:

Mr Brown – lunchtime in the PE classroom
Mrs Forrest – P6/7 in her classroom
Mrs Atkinson – P6/7 in her classroom
Mr Martin – P4/5 in his classroom
Mrs Changleng – P1/2 in her classroom
Ms James – P1/2 in her classroom
Mrs Stewart – P1/2 in her classroom
Ms Bonnar – P6/7 in her classroom.
All learners should have received further information directly from SQA this week regarding appeals. Mrs Lothian and Mrs Wilson will be available in school on Tuesday 10th August if anyone wishes to discuss their results.
School Uniform
We have had a number of comments complimenting how smart our pupils are in their school uniform, so we would like to thank parents for their support in ensuring that pupils come to school each day in the full necessary uniform.
See flyer below from our uniform supplier regarding dates for guaranteed delivery prior to pupils returning in August.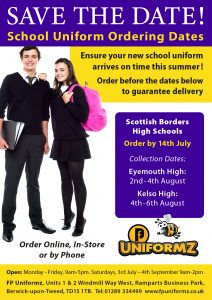 Developing the Young Workforce
Please see link below for the summer newsletter
https://www.dywborders.co.uk/khs-newsletter
Apprenticeship Opportunity
A local employer, Abbey Tool & Gauge Ltd, are looking for multiple apprentices, based in Kelso. Earn while you learn! Great opportunity to build a career, locally, in the engineering sector. http://ow.ly/CFar50FcOBZ Want some help? See your pastoral teacher.
Football
The Kelso 2006 Football team have reached two cup finals this season, beating North Merchiston 5-0 and Newtongrange Star 1-1 ( 4-2 Penalties) in the Semi Finals.
They will play the first of the two cup finals on Sunday 27th June at Netherdale in Galashiels against Arniston Rangers.
The Team is Made up of :- Adam Moir (KHS), Aiden Reilly (JGS), Ben Macrae (KHS), Callum Pollhammer (KHS), Danny James (KHS), Fraser Mason (EHS), Fraser Swan (EHS), Harris Donnovan (KHS), Harry Dalgliesh (EHS), Kyle Wright (KHS), Louie Arnold (KHS), Logan Kerr (EHS), Lyall Roberts (Longridge), Michael Pattinson (KHS), Oliver Todd (JGS), Tyler Swinton (KHS) and Will Prentice (KHS)
Coached by Andrew Swinton and Robbie Reilly.
Canteen Menu w/c 21st June
| | | | |
| --- | --- | --- | --- |
| | Monday | Tuesday | Wednesday |
| Main 1 | Macaroni Cheese with Garlic Bread Mixed Salad | Steak Pie with Roast Potatoes Vegetables | Chicken Korma with Rice and Poppadoms Mixed Salad |
| Main 2 | Roast Turkey in Gravy with Mashed Potatoes Vegetables | Grilled Salmon with Savoury Rice and Mixed Salad | Chicken Tikka with Rice and Poppadoms Mixed Salad |
| Main 3 | Chicken Fried Rice Mixed Salad | Quorn Sausages with Roast Potatoes Vegetables | Quorn Korma with Rice and Poppadoms Mixed Salad |
| Soup & Bread | Vegetable Soup | Lentil Soup | Sweet Potato and Chilli |
| Cold Sandwiches | Cheese, Tuna, Chicken, Egg | Cheese, Tuna, Chicken, Egg, Roast Beef | Cheese, Tuna, Chicken, Egg |
| Hot Sandwiches | Garlic Mushrooms or BBQ Quorn | Vegetable Fajita or Chicken | Garlic Mushroom or Chicken |
| Baked Potato | Beans, Cheese, Salad Bar | Beans, Cheese, Salad Bar | Beans, Cheese, Salad Bar |
| Pasta King | Cook's Choice | Cook's Choice | Cook's Choice |
| Pizza | Cheese | Cheese | Cheese |
| Additional Veg | Vegetable Sticks | Vegetable Sticks | Vegetable Sticks |
Job / Apprenticeship Opportunities
https://www.scotjobsnet.co.uk/browse-jobs/scottish-borders/
http://apprenticeshipsinscotland.com/?s=&location=scottish+borders&ptype=job_listing&latitude=&longitude=&full_address=&north_east_lng=&south_west_lng=&north_east_lat=&south_west_lat=&radius=0