Weekly Update from our S6 Head Team
It has been another busy week for everyone. On Wednesday we were finally able to meet our buddies after delays due to COVID restrictions! We met on the sports pitches at break time. It was nice to put names to faces and learn more about our buddies. We hope to meet up with them again soon.
On Thursday the whole of S6 met up for 'team building' activities as a way of bringing the year closer together and marking the start of the year. It was nice to do something as a whole group as we missed out on the residential in June. We had a quiz where each team had to guess which teacher matched a silly/embarrassing story. Great fun was had by everyone!
This week we also spoke to Ms Poole (CDT teacher) and asked her how she has settled in at KHS. She said, 'It's amazing! Everyone has been so welcoming and the students are really friendly.' She is enjoying getting to know everyone.
Have a good weekend,
Head Team
Example of our Pride Values in action
This week, one of our science classes were able to use their new skills to make some beautiful crystals.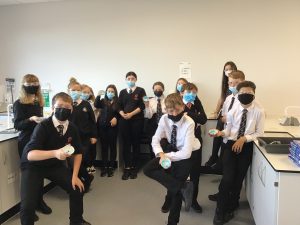 Also this week, Our S2 have been working how we can embody and live our #pridekhs values in daily life, both in school and our Kelso community.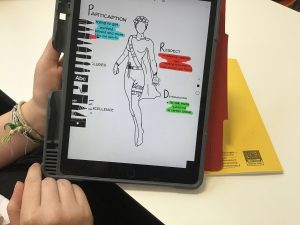 CyberFirst Girls Development Days
These are fun, interactive one day face-to-face courses or two half-day virtual sessions for girls in S2/S3.  To find out more and sign up please use the link below:
blogs.glowscotland.org.uk/glowblogs/computingscience/2021/09/14/sign-up-for-cyberfirst-girls-development-days
S1 Webinar
Introduction to Skills Development Scotland (SDS) for parents and carers of S1 pupils
Wednesday 29 September 2021 at 6.30pm
Want to know more about SDS career information, advice and guidance support for your young person throughout their time at school? Join our careers advisers Lesley and Gordon to hear about SDS, the role of SDS careers advisers in schools and information to support career planning. The online session will also introduce our careers web service My World of Work, which has a dedicated area for parents and carers.
Parents and carers can register for the session here.
Chemistry Textbooks
The Chemistry department has some Higher Chemistry textbooks which have not been returned. If any pupil has borrowed the textbooks shown the photos then please can they return them ASAP to Mr Egginton or Mrs Robertson as we need them for this years classes.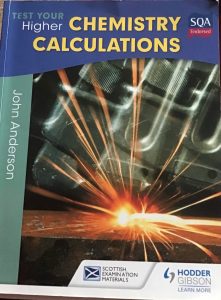 Parent Council Update
Parent Space
Cheviot Youth have teamed up with Parent Space (https://www.parentspace.org.uk/) to run a special programme aimed at all parents and carers which focuses on the teenage years. Running over 8 weeks in the evening from 6.30pm – 8.30pm, the first session will be on Tuesday 28th September.  Far for lectures on 'how to be a parent', the programme is instead aimed at providing hints, tips and advice in a safe and supportive environment.  Sessions will be relaxed but informative with lots of discussion and mental health and youth work professionals on hand to answer questions, bust myths and provide deeper insight.
Please find further information on the programme below. 
https://www.cheviotyouth.org/supportforparents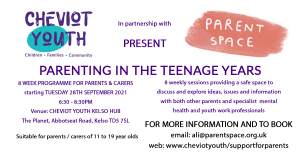 Canteen Menu
| | | | | | |
| --- | --- | --- | --- | --- | --- |
| | Monday | Tuesday | Wednesday | Thursday | Friday |
| Main 1 | Macaroni Cheese with Garlic Bread Mixed Salad | Steak Pie with Roast Potatoes Vegetables | Chicken Korma with Rice and Poppadoms Mixed Salad | Fish and Chips Peas | Bacon Roll |
| Main 2 | Grilled Salmon with Savoury Rice and Mixed Salad | Chicken and Ham Pie with Roast Potatoes Vegetables | Beef Curry with Rice and Poppadoms Mixed Salad | Breaded Chicken Goujons with Chips and Baked Beans | Sausage in a Roll Veggie or Vegan Sausage in a Roll Sausage Roll (pastry) |
| Main 3 | Quorn Spaghetti Bolognaise Vegetables | Vegan Sausages with Roast Potatoes Vegetables | Vegetable Curry with Rice and Poppadoms Mixed Salad | Grilled Quorn Burger with Chips Mixed Salad | Beef Burger Quorn Burger in a Roll |
| Soup & Bread | Tomato Soup | Lentil Soup | Sweet Potato and Chilli | Chicken Noodle | N/A |
| Cold Sandwiches | Cheese, Tuna, Chicken, Egg | Cheese, Tuna, Chicken, Egg, Roast Beef | Cheese, Tuna, Chicken, Egg, Roast Beef | Cheese, Tuna, Chicken, Egg | Cheese, Chicken, Tuna, Egg, Ham |
| Hot Sandwiches | Roasted Vegetables and Mozzarella or Chicken | BBQ Quorn or Chicken | Vegetable Fajita or Chicken | Sweet Chilli Quorn or Chicken | Cheese and Ham Panini Cheese Panini Cheese and Tomato Pizzini Spicy Chicken Pizzini |
| Baked Potato | Beans, Cheese, Salad Bar | Beans, Cheese, Salad Bar | Beans, Cheese, Salad Bar | Beans, Cheese, Salad Bar | N/A |
| Pasta King | Cook's Choice | Cook's Choice | Cook's Choice | Cook's Choice | N/A |
| Pizza | Cheese | Cheese | Cheese | Cheese | N/A |
| Additional Veg | Vegetable Sticks | Vegetable Sticks | Vegetable Sticks | Vegetable Sticks | Vegetable Sticks Pasta Salad |