HT Update
During our In-service days last week our staff engaged in a variety of professional learning. On the Thursday, staff worked across the 9 secondary schools in their discrete subjects while Friday was used to review our School Improvement Plan.
Last week our teachers Mrs Curran and Ms James attended an awards ceremony at Scottish Parliament to receive our Level 1 Award from Vision Schools Scotland (supporting Holocaust Education).
Staffing
For information, the following staff are currently unwell and every effort is being made to minimise disruption to learning:
Miss Easton, Miss Nisbet, Mrs Carragher, Mr Stobie
As a school we wish our Youth Worker, Anja Raeburn good luck as she leaves KHS and begins her new post.
Groupcall Xpressions
Scottish Borders Council have launched a brand new App for parents this week. Groupcall Xpressions is a new way for you to view messages from your child's school through an App on your mobile phone or tablet. It will be delivered by Groupcall and will work alongside the existing system. Text alerts will be used for any urgent messages, while all others will be sent using the new App or Groupcall email.
We would encourage all parents to download this as soon as possible so we can communicate with you.
KHS Parent Council Meeting
The next meeting will be held on Tuesday 19th November 2019 at 6.30pm – all welcome!!
Lost Property
We have taken the opportunity during last week's INSET to clear out the lost property and we have returned the items that have names on. There are a lot of non-clothing items that we would like to return to the rightful owners. See photos below. If anything here belongs to your child, please let the School Office know and we will ensure it gets to them.
S1/S6 Buddy Cinema Trip
Letters have been issued today for the annual buddy cinema trip taking place on Friday 13th December. Consent forms are to be returned to the School Office by 4th December and payments to be made via ParentPay.
Visit to Plexus
Mr Martin's Engineering Skills class visited Plexus this week for a tour of the factory and to find out more about the range of job opportunities available on their doorstep. The class were impressed by the scale of the factory and the precision required when manufacturing products at this level. We were shown round by some of Plexus' staff who are currently on or have been through their Modern Apprentice scheme, which was of interest to our pupils. We were joined by Borders College staff, Mark Catto and Jimmy Louth as it is Borders College who are working in partnership with Kelso High School in delivering this course.
Thank you once again to Plexus for their continued support of Kelso High School.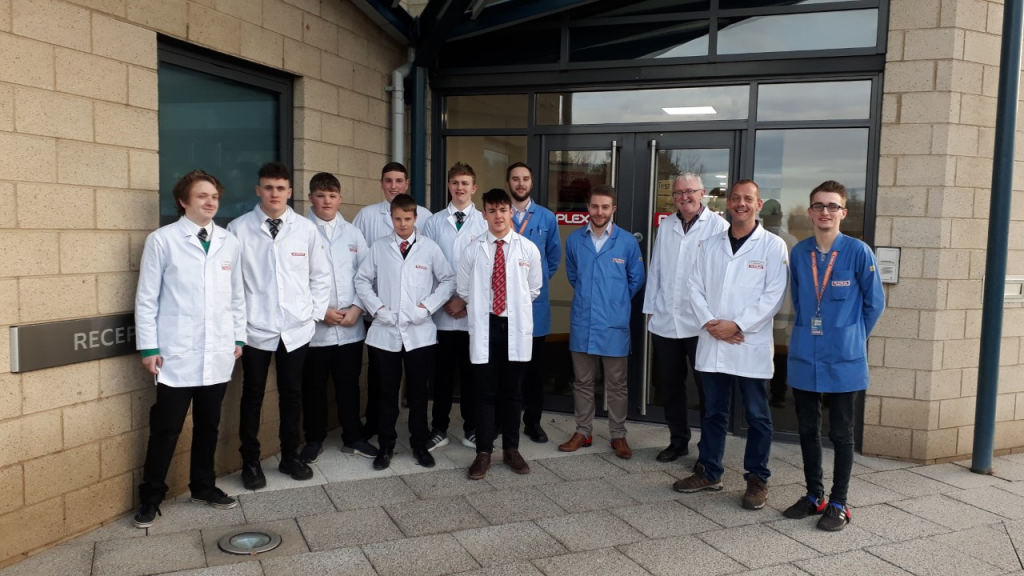 Rotary Young Musician Competition
We held the Rotary Young Musician Competition in the music department on Wednesday. Some great performances which were well received by the judges and a small audience.
Competing were: Hannah McGlasson, Lexi Reader, Lucy Campbell, Rachel Wemyss, Josie Dickman, Jamie Ball, Kitty Irving and Ben Murray.
Josie came first and will go to the regional finals on 24th January 2020. Jamie was second and Hannah third.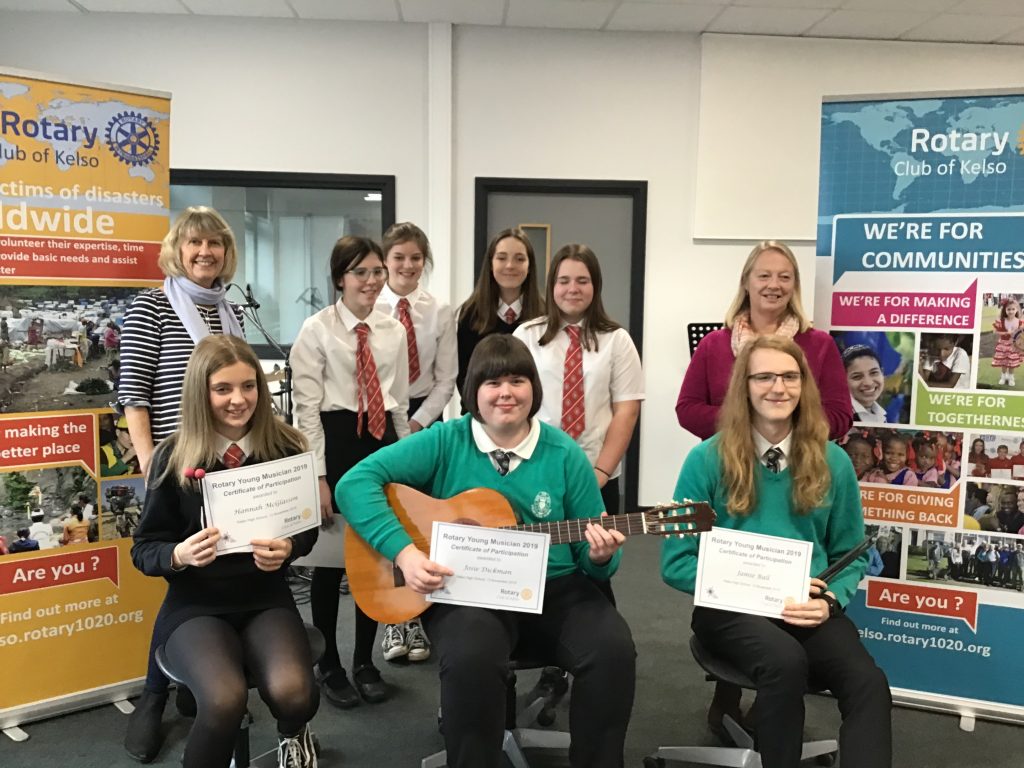 Transport Emergency Plans 2019-20
Please see attached letter from Scottish Borders Council regarding procedures for cases of emergency and winter weather.
Kelso Community Cinema
See poster below for this month's films. It has been confirmed that Frozen 2 will be the 5.30pm showing in December.
KHS Swimming Update
On Sunday 10th November 5 Kelso High School pupils took part in the East Lothian & Borders Schools competition at Prestonpans. This is a rare opportunity for swimmers to represent their schools and our 5 did a great job picking up a great haul of medals & PB's.
Andrew Lawson (S3) GOLD 100m Butterfly, GOLD 200m Butterfly, GOLD 200m Freestyle
Sam Grainger (S2) GOLD 400m Freestyle, GOLD 100m Breaststroke, GOLD 100m Backstroke
Bronwen Payne (S1) GOLD 400 Individual Medley
Jessie Norris (S2) – huge PB in 200m Backstroke
Ellie MacKenzie (S1) – PB's in 100m Backstroke, 100m Freestyle, 100m IM
They now have a nervous wait to find out if their times get them to the Scottish Schools Championship in January at Tollcross International Swimming Centre Glasgow where they would represent KHS on the national stage.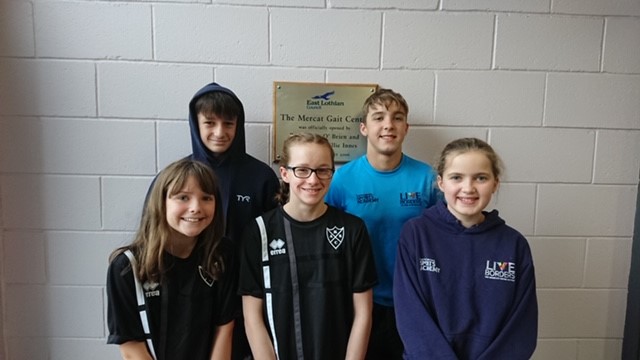 KHS Canteen w/c 18/11/19
| | | | | |
| --- | --- | --- | --- | --- |
| | MONDAY | TUESDAY | WEDNESDAY | THURSDAY |
| Scottish Favourites | Chicken Supreme with Rice, Beef Lasagne with Garlic Bread or Macaroni Cheese with Garlic Bread | Roast Beef Dinner, Chicken Sausages with Roast Potatoes or Vegetarian Sausages with Roast Potatoes | Curry Day | Fish & Chips, Chicken Paella or Omelette with Chips |
| Hot Sandwiches | Cook's Choice or Panini | Cook's Choice or Panini | Cook's Choice or Panini | Cook's Choice or Panini |
| Cold Sandwiches | Selection of Cold Sandwiches | Selection of Cold Sandwiches | Selection of Cold Sandwiches | Selection of Cold Sandwiches |
| Jacket Potato | Cheese, Beans or Salad Bar | Cheese, Beans or Salad Bar | Cheese, Beans or Salad Bar | Cheese, Beans or Salad Bar |
| Pizza/Pasta | Cheese Pizza or Pasta King | Cheese Pizza or Pasta King | Cheese Pizza or Pasta King | Cheese Pizza or Pasta King |
| Soup | Lentil | Tomato | Sweet Potato and Chilli | Chicken Noodle |
Gluten Free options also available.
All these meals can always be ordered early in the day or on the day before as a Grab and Go to save pupils waiting at lunchtime.
Job / Apprenticeship Opportunities
https://www.scotjobsnet.co.uk/browse-jobs/scottish-borders/
http://apprenticeshipsinscotland.com/?s=&location=scottish+borders&ptype=job_listing&latitude=&longitude=&full_address=&north_east_lng=&south_west_lng=&north_east_lat=&south_west_lat=&radius=0