February Holiday
We hope all our youngsters and staff have a lovely holiday, school resumes on Thursday 20th February 2020.
S2 into S3 Choice of Course
Our S2 pupils were issued with the S2 into S3 course choice form to complete and return by Friday 28th February. Please see below a copy of the PowerPoint that was shown and all the necessary information required, including a copy of the Choice of Course Form, can be located within the pathways tab on our website.
KHS Careers Fayre 03/03/20
Over 30 local employers/businesses, Universities and Colleges are attending to help our young people make informed decisions about their future options. There will be tea/coffee and home baking to enjoy as well as Quarriers, Careers Advisors and school staff on hand to support parents and pupils. We look forward to seeing you – drop in for as little or as long as you would like! See flyer below.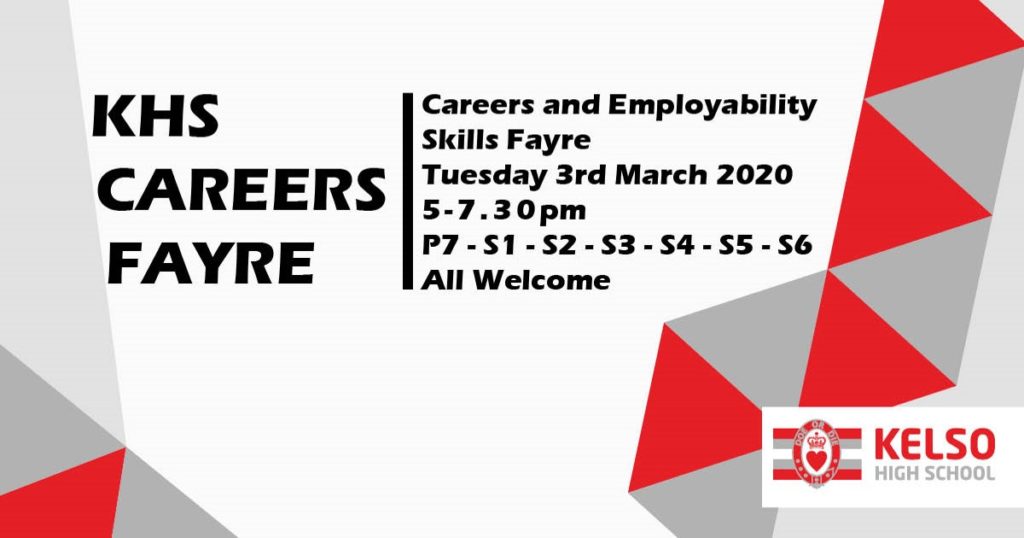 Apple Teachers
Congratulations to the KHS PE Department, the first complete faculty to become Apple Teachers – well done!!
KHS App
As a school, we have had to make the decision to terminate our contract and stop using KHS School App as from the end of March. There was a yearly cost involved and now that the Local Authority are using Groupcall Xpressions across all schools we have been asked to make the switch.
Groupcall Xpressions
See poster below with more information. We strongly encourage ALL parents to download this app to their phone or tablet so we can communicate with you better.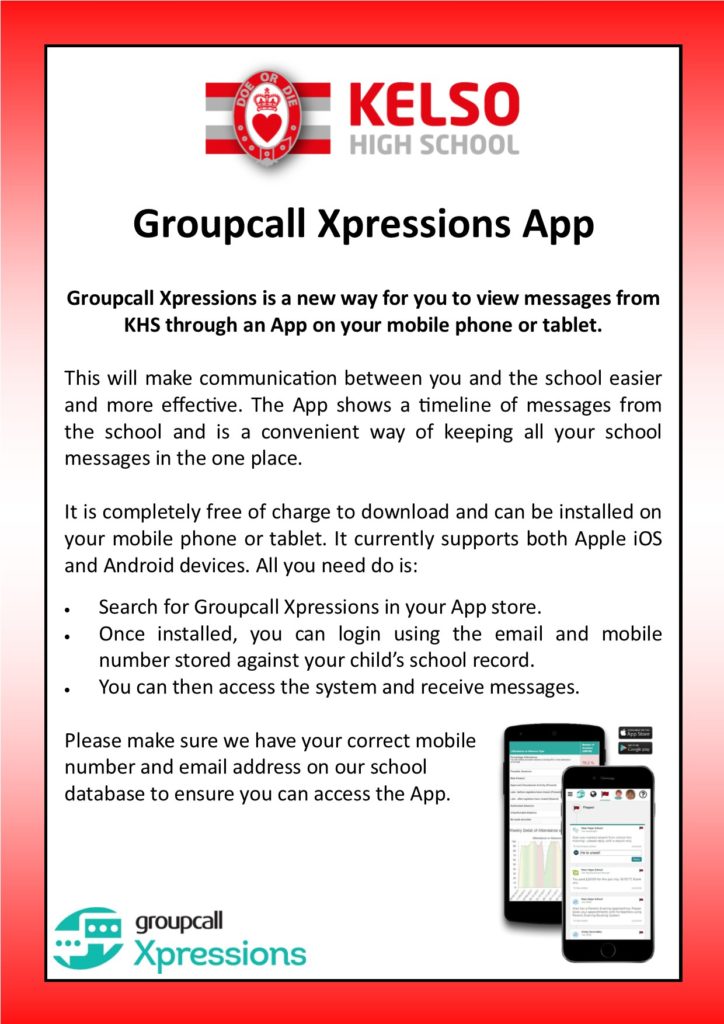 Organised and good with numbers, then the KHS Parent Council needs you!!
The post of Treasurer for our Parent Council needs to be filled and we are looking for a volunteer to take this on for the 2020/21 session. Our current treasurer Jane has done a fabulous job and is happy to work with a willing parent to show them the ropes. If you are interested please email the school (kelsohs@scotborders.gov.uk).
Immunisations
The immunisation session for Diphtheria, Tetanus and Polio will held on the first day back after the holiday. If you have not already done so, please completed and send the form in with your youngster on Thursday 20th February. Please note pupils without completed forms may not be immunised, we are not able to take consent over the phone on the day.
Seasonal Catering Assistants – Floors Castle & Gardens, Kelso
Do you enjoy working with people, have a positive attitude, a passion for food and the ability to provide excellent customer experience? If this is you, why not join our catering team at Floors Castle. We are looking for Catering Assistants to join us this season at both our Terrace and Courtyard cafés. These are seasonal hourly paid contracts.
Further details can be obtained from Linda on lwigley@floorscastle.com or 01573 227660 and please apply by sending details of your experience and the reason why you'd like to join our team to: Linda Wigley, Floors Castle, Roxburghe Estates, Kelso, TD5 7SF or by e-mail: lwigley@floorscastle.com
KHS Canteen w/c 10/02/20
| | |
| --- | --- |
| | THURSDAY |
| Scottish Favourites | Fish & Chips, Chicken Paella or Omelette with Chips |
| Hot Sandwiches | Cook's Choice or Panini |
| Cold Sandwiches | Selection of Cold Sandwiches |
| Jacket Potato | Cheese, Beans or Salad Bar |
| Pizza/Pasta | Cheese Pizza or Pasta King |
| Soup | Chicken Noodle |
Gluten Free options also available.
All these meals can always be ordered early in the day or on the day before as a Grab and Go to save pupils waiting at lunchtime.
Job / Apprenticeship Opportunities
https://www.scotjobsnet.co.uk/browse-jobs/scottish-borders/
http://apprenticeshipsinscotland.com/?s=&location=scottish+borders&ptype=job_listing&latitude=&longitude=&full_address=&north_east_lng=&south_west_lng=&north_east_lat=&south_west_lat=&radius=0