Coronavirus (COVID-19) Parents Information
We would like to reassure you that the situation regarding Coronavirus COVID-19 is being monitored very closely in the Borders, both by NHS Borders from a clinical perspective and Scottish Borders Council with our responsibility to our children, young people, staff and the wider community.
NHS Borders is the lead agency locally, led by the Joint Director of Public Health and fully supported by the Council.
Overall, the position is being co-ordinated by a range of professionals across Scotland, the UK and beyond. This includes Scottish Government, Health Protection Scotland and NHS24.
Advice:
All schools, early learning and childcare settings and other educational settings have been issued with detailed guidance by Health Protection Scotland.
This includes the latest advice on a range issues including how we can help prevent the spread of respiratory infections and what we should do if someone confirmed or suspected to have COVID-19 has been in a school or other educational setting.
If this should happen, the Health Protection Team at NHS Borders would work with us and school staff to manage the situation. They would also make any decisions around potential school closures under guidance from the Scottish Government.
All education settings are being asked to be particularly vigilant about Infection control procedures. It is recommended that children and young people, staff and visitors wash their hands:
Before leaving home
On arrival at school/setting
After using the toilet
After breaks and sporting activities
Before food preparation
Before eating any food, including snacks
Before leaving school/setting.
What should a pupil who becomes unwell do?
Any pupil who has returned from a Category 1 risk area for COVID-19 within the last 14 days should self-isolate and not attend education for 14 days, even if they feel well. They, or their parent/carer, should also contact their GP, NHS24 (111) or the Helpline 0800 028 2816. Information about affected areas is available on the Health Protection Scotland website
Any pupil who thinks they have been in contact with someone infected with Coronavirus should not attend education even if they are well, but should first contact their GP or NHS24 (111) for further assessment and advice.
Parents and carers of any pupil who fits either of the above categories should contact their school's headteacher.
The above guidelines apply to all of our teaching and other staff.
S6 Uniform Order
Order forms have been distributed to all S5 pupils this week to order their S6 uniform. Due to changing uniform supplier we are delighted to say that the new S6 pupils will have their jumpers early June. Can you please complete and return the form given along with the necessary payment. Sample jumpers are available in the School Office to try on for correct sizing. Form attached below for information.
Groupcall Xpressions
We are now able to accept incoming messages via the Groupcall Xpressions app so you can message the School directly with the app to notify us of absences etc. This is another useful way to communicate with us. Again, we encourage all parents to download this.
Hot Chocolate Recognition
Well done to our S1 class (1.4). Following their excellent work in Science their teacher Miss Carragher nominated the whole class for our HT Hot Chocolate. Mrs Lothian enjoyed the discussions around their deforestation presentations. #PRIDE
Kelso High School Senior Equestrian Team
Congratulations and well done to the team consisting of Alex Edgar, Vicky Edgar, Katie Edgar and Katy McFadyen. On Friday night, at the HorseScotland Awards the girls won Team of the Year.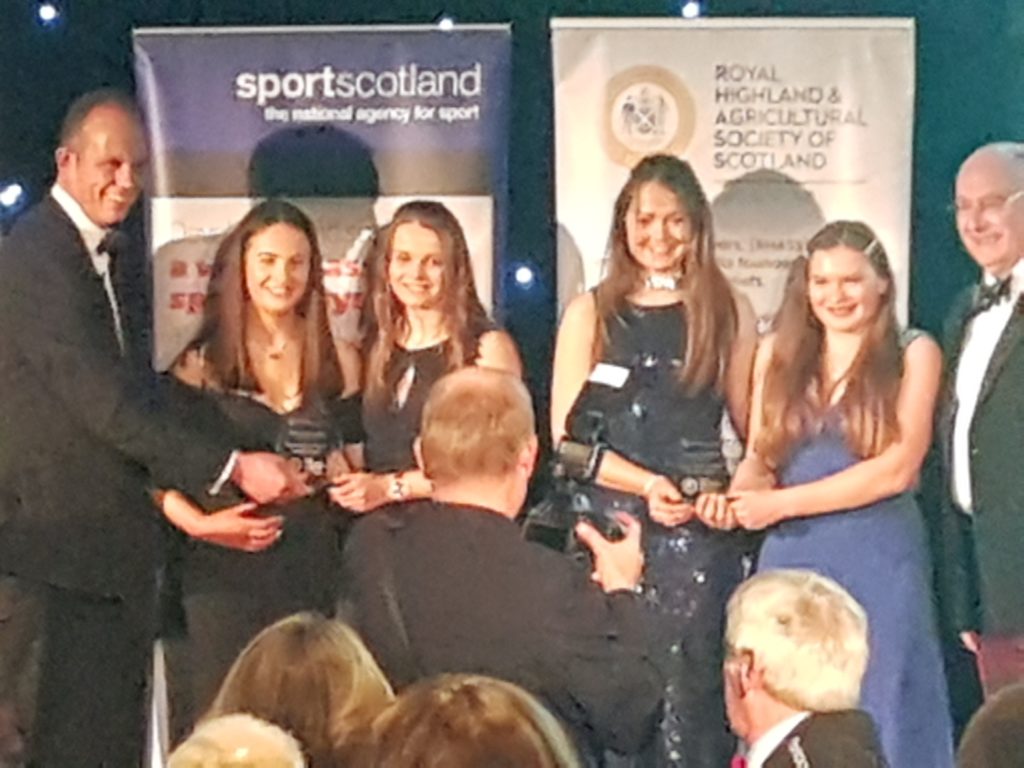 KHS Parent Council Meeting
The next KHS Parent Council Meeting will be held in school on Tuesday 17th March at 6.30pm in the 1st floor staffroom.
AGENDA
Welcome and Introductions
Matters Arising
Chair's Report
Opportunities for parental involvement and feedback:

Regular Parent Council Newsletter

Organise a PC open event to seek feedback

Agree questions for a parent survey

Treasurer's Report
HT Report
AOCB
Date of Next meeting
We look forward to seeing you there.
KHS Canteen w/c 16/03/20
| | | | | |
| --- | --- | --- | --- | --- |
| | MONDAY | TUESDAY | WEDNESDAY | THURSDAY |
| Scottish Favourites | Chicken Supreme with Rice, Beef Lasagne with Garlic Bread or Macaroni Cheese with Garlic Bread | Roast Beef Dinner, Chicken Sausages with Roast Potatoes or Vegetarian Sausages with Roast Potatoes | Curry Day | Fish & Chips, Chicken Paella or Omelette with Chips |
| Hot Sandwiches | Cook's Choice or Panini | Cook's Choice or Panini | Cook's Choice or Panini | Cook's Choice or Panini |
| Cold Sandwiches | Selection of Cold Sandwiches | Selection of Cold Sandwiches | Selection of Cold Sandwiches | Selection of Cold Sandwiches |
| Jacket Potato | Cheese, Beans or Salad Bar | Cheese, Beans or Salad Bar | Cheese, Beans or Salad Bar | Cheese, Beans or Salad Bar |
| Pizza/Pasta | Cheese Pizza or Pasta King | Cheese Pizza or Pasta King | Cheese Pizza or Pasta King | Cheese Pizza or Pasta King |
| Soup | Lentil | Tomato | Sweet Potato and Chilli | Chicken Noodle |
Gluten Free options also available.
All these meals can always be ordered early in the day or on the day before as a Grab and Go to save pupils waiting at lunchtime.
Job / Apprenticeship Opportunities
https://www.scotjobsnet.co.uk/browse-jobs/scottish-borders/
http://apprenticeshipsinscotland.com/?s=&location=scottish+borders&ptype=job_listing&latitude=&longitude=&full_address=&north_east_lng=&south_west_lng=&north_east_lat=&south_west_lat=&radius=0