Senior Phase and SQA Exams
A letter was issued to all parents following the DFM announcement about Higher and AH SQA exams from SBC on Wednesday 9/12. As a follow on, we will be sending further details about what this means for our young person asap.
Use of Face Coverings
Thank you for your support, we have seen a decrease in the number of young people asking for a disposable face covering. We will continue to encourage the wearing of reusable face coverings and through the kind donation of handmade masks they are available within school.
Reminders
We will continue to ask our young people to be outside during social time and so it is important that outside jackets are brought to school.  We will also be encouraging all our young people to wear our agreed school uniform.
Bee Club Research Project
On Wednesday we celebrated and concluded our Royal Society project. Our youngsters were amazing and impressed scientists from SASA, the Roslin Institute and EBSOC. Well done to all.
S3 Business Class
We are so proud of our S3 Business & IT pupils this week! Pupils have been learning about setting up and running a social enterprise. They took part in a virtual presentation with a social entrepreneur from Social Enterprise Academy Edinburgh, to learn about the running of a social enterprise. They then set up their own social enterprise and decided their main aim would be to tackle loneliness and isolation in local care homes during COVID-19. They used the IT skills they have learned to create Christmas activity books, cards and personal messages to send to care home residents. Pictures below of the pupils with their creations.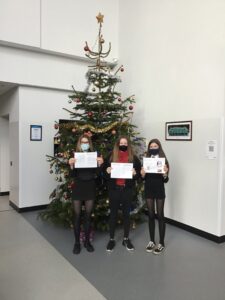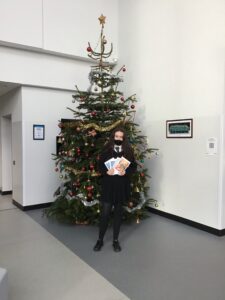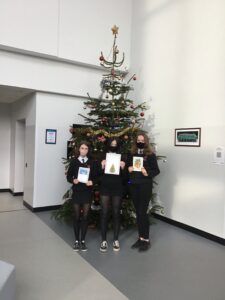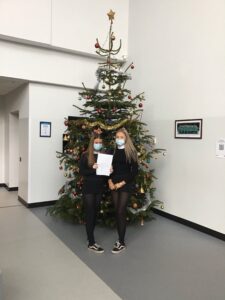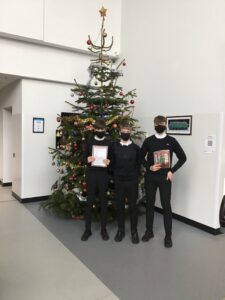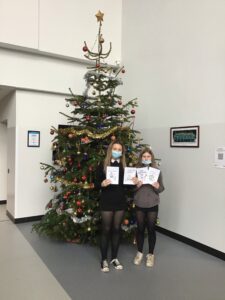 Groupcall Xpressions
We would like to encourage all parents to download the Groupcall Xpressions app. This is a simple and easy app to use on your phone or tablet. You can use this to send messages to the School to report any absences and to send any queries. Our office staff can reply to the messages on the app and pass on any queries as necessary. You can download the app from your App Store and use the same details that we hold to register.
Virtual Art Coding
Last Friday morning class 1.2 participated in a 'virtual art coding' workshop. This was organised through My World of Work and pupils spent periods 1 and 2 using their iPads to create coloured shapes using code, similar to activities they do in computing. They all enjoyed the activity and behaved really well. David, who led the workshop, commented that they had all done really well especially since they were using iPads and not laptops, as this makes it a little more complicated. So a huge well done to class 1.2!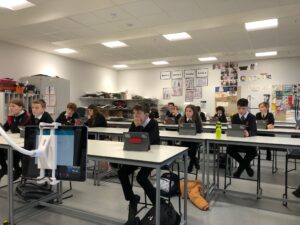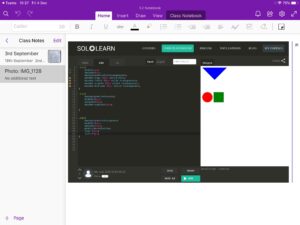 Charity Update
During last session 2019/20 the S6 Charity Committee raised funds through a variety of events and some of the money raised was used to provide gift bags for all the residents at Rutherford Square, Kelso. They were delighted to receive a selection of treats to enjoy over the festive season when things are a bit different and they are unable to enjoy their usual gatherings and events. Well done to all involved in fundraising and organisation to make this possible.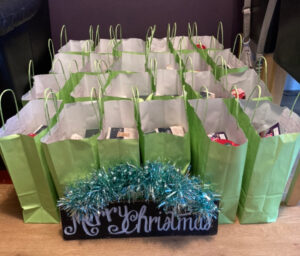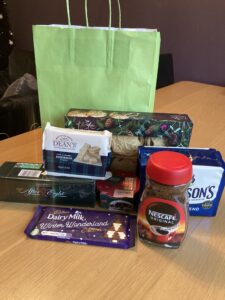 Berwick Film & Media Broadcast at KHS
In media studies at Kelso High School, we were fortunate to liaise with Berwick Film & Media Arts Festival to view new filmmakers and their projects from many different countries. Through a private screening platform online, classes watched a few short films and were provided educational materials to guide them through the work, giving students a valuable opportunity to see local and international filmmakers present short films, much like their own media assignment for the SQA.
The favourite of the short films was "Ten Metre Tower"; a short documentary about jumping off the highest board in an Olympic swimming pool. In class, it raised interesting questions about bravery, survival instinct and peer pressure.
"What risks are worth taking? And which ones aren't?"
This prompted good conversation on our own values, and the values we hold at Kelso High School.
Next year, the classes will create a short filmed response to this, entitled "New Normal" – with the hope of being selected for showing to other educational institutes. Certain students are already involved in this project, but we will welcome all additional films created on this theme, from school and in our local community. Please get in touch with the school if interested.

We welcome partnerships with all aspects of the community and to work with BFAMAF was a privilege – we look forward to more work with them and other local media arts in future.
Football Nominations
S1
Team player – Nathan Dyet 1K2
Most improved – Kenny Keddie 1K2
Participation – Ali Boubekeur 1T
Connect Newsletter
Download December's e-newsletter below.
KHS Canteen w/c 14/12/20
| | | | | |
| --- | --- | --- | --- | --- |
| | MONDAY | TUESDAY | WEDNESDAY | THURSDAY |
| Scottish Favourites | Chicken Supreme with Rice, Beef Lasagne with Garlic Bread or Macaroni Cheese with Garlic Bread | Christmas Dinner Day | Curry Day | Fish & Chips, Chicken Paella or Omelette with Chips |
| Hot Sandwiches | Cook's Choice or Panini | | Cook's Choice or Panini | Cook's Choice or Panini |
| Cold Sandwiches | Selection of Cold Sandwiches | | Selection of Cold Sandwiches | Selection of Cold Sandwiches |
| Jacket Potato | Cheese, Beans or Salad Bar | | Cheese, Beans or Salad Bar | Cheese, Beans or Salad Bar |
| Pizza/Pasta | Cheese Pizza or Pasta King | | Cheese Pizza or Pasta King | Cheese Pizza or Pasta King |
| Soup | Lentil | | Sweet Potato and Chilli | Chicken Noodle |
Gluten Free options also available.
All these meals can always be ordered early in the day or on the day before as a Grab and Go to save pupils waiting at lunchtime.
Job / Apprenticeship Opportunities
https://www.scotjobsnet.co.uk/browse-jobs/scottish-borders/
http://apprenticeshipsinscotland.com/?s=&location=scottish+borders&ptype=job_listing&latitude=&longitude=&full_address=&north_east_lng=&south_west_lng=&north_east_lat=&south_west_lat=&radius=0