Staffing
Congratulations to our Principal Teacher of English, Mrs L Changleng who was our preferred candidate for our Acting DHT post.
S6 Head Team Update
Pupils and teachers seem to be continuing to work hard and bring their positive attitudes to school. One of our new teachers, Mr McColm (Modern Studies) has commented on how he is enjoying his time at Kelso high school so far, saying he thinks the staff, building and pupils are lovely.
We are planning an S6 activity to bring our year group closer together, which involves playing fun games and quizzes. We went round to collect some funny or embarrassing stories from some of our teachers for the quiz. Some of them are absolutely shocking!
We have also begun to look into activities for the future that we can partake in with our buddies.
Our committees continue to make progress and it looks like our See Me Ambassadors (our mental health focused committee) will be getting their training soon.
Overall this week has been a very productive one, and hopefully we are able to follow through with the plans we have made.
Sincerely, Kelso High School Head Team
Inter-House Opportunities
On Wednesday, our Senior Sports Leaders organised and ran the start of our inter-house football and basketball competitions for our S2 and S3.  These take place on a Wednesday lunchtime.  This week, the weather was extremely hot but all teams played well.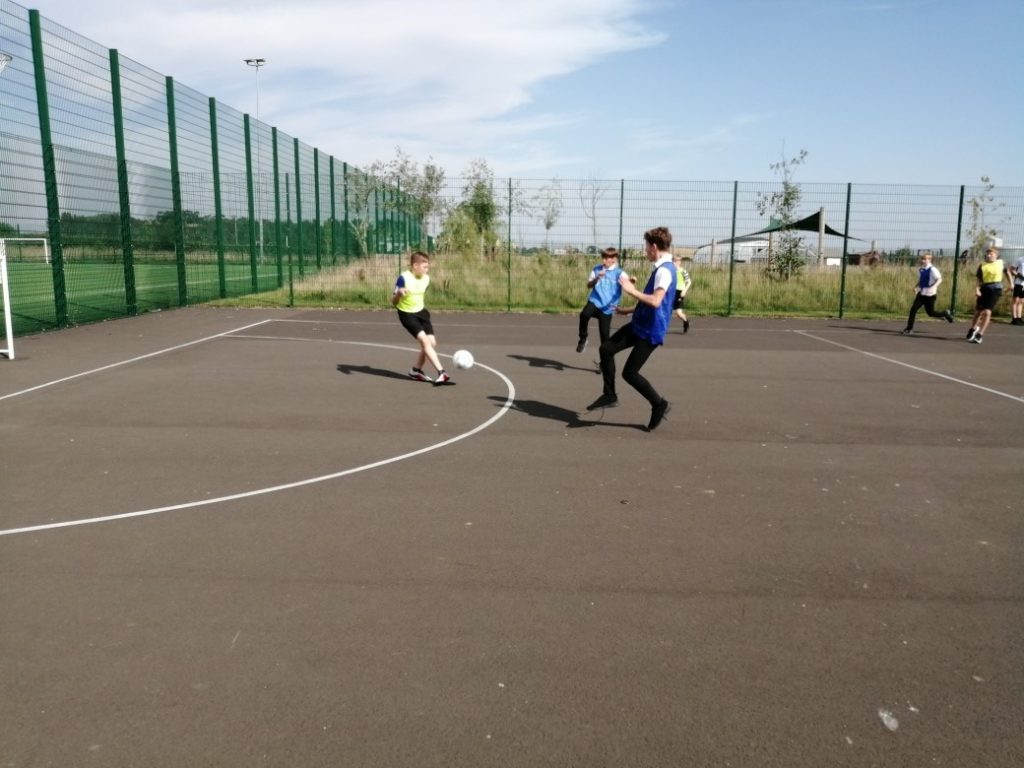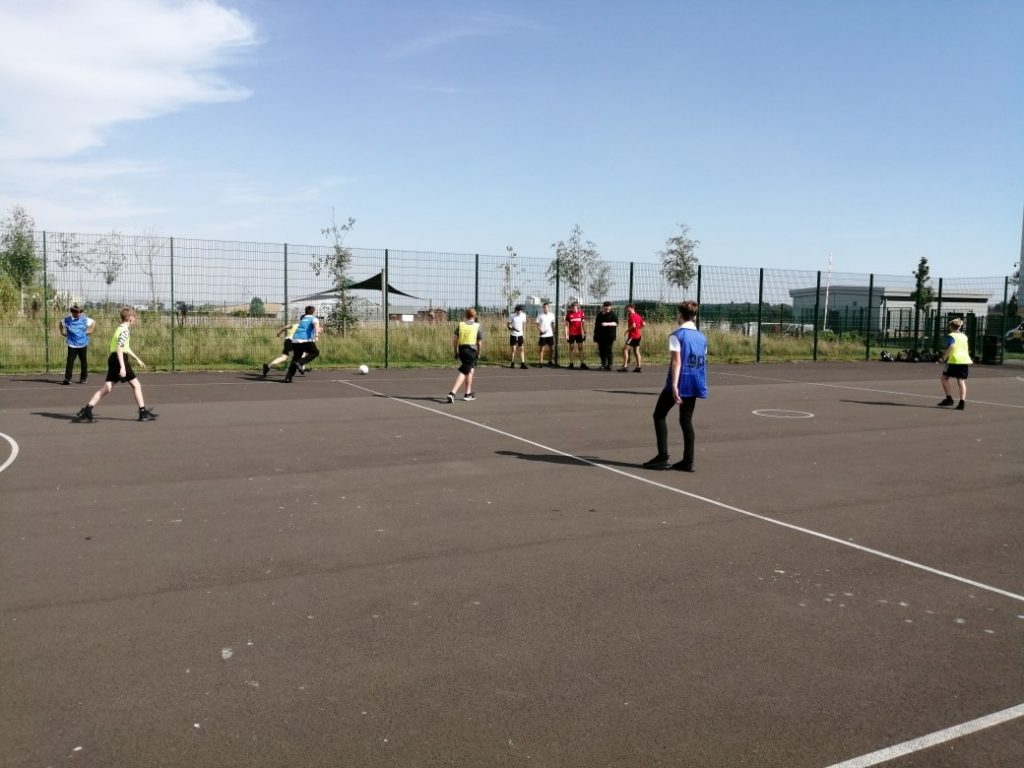 Face Coverings
In-line with national guidelines, we all continue to wear face coverings within the school building (unless exempt).  Many of our young people arrive at school prepared with their own face covering, we recognise and thank them for doing this.  However yesterday morning we had to issue over 60 disposable masks, with many more being re-issued throughout the day.  Unfortunately many of these blue masks are then dropped within the school grounds or to and from school.  Please can we ask for your support to encourage the use of re-usable face coverings.
Defend the Rhino!
This week, our S3 Environmental Science class took part in a live on-line lesson run by the International Orkney Science Festival.
Alongside groups from as far away as Penn State University, in the USA, our students were asked to use data handling skills to analyse images and identify potential rhino poachers. They submitted their data to help build an IT model to screen images from CCTV cameras in nature reserves, so that poachers could be identified more quickly. Despite some IT challenges along the way, 6 rhinos were saved!
Flu Vaccine Forms
Forms were issued to all S1-S6 pupils this week as the NHS are offering all secondary school pupils the flu vaccine this year. Please ensure this is completed and returned to the School Office by 17th September at the latest.
Annual Update Forms
Can parents please ensure they have completed the annual data update forms and returned to the School Office as soon as possible. It is extremely important to keep all your contact details up to date.
After School Job Opportunity
Castlegate Nursery are looking for another cleaner to provide enhanced cleaning in their classrooms after school hours. See flyer below.
Parent Council Update
The school would like to take this opportunity to say thank you to Gemma Douglas. During a very difficult time she has successfully led our Parent Council over the past two years. She has given up many hours of her own time to support our parents, staff and young people and established helpful links with other Parent Councils across the Local Authority and beyond.
We would like to welcome our new office bearers. Over the year we will continue to work closely with them and the wider parent forum:
Chair: Mrs Harriet Campbell
Vice Chair: Mrs Leri Payne
Treasurer: Mrs Ginny Stewart Clark: Miss Suzanne Cowe
FASD
September 9th is International FASD day, this video explains things you may not already know, check it out:
Further info: https://www.facebook.com/hashtag/fasdanimation
Canteen Menu
| | | | | | |
| --- | --- | --- | --- | --- | --- |
| | Monday | Tuesday | Wednesday | Thursday | Friday |
| Main 1 | Macaroni Cheese with Garlic Bread Mixed Salad | Steak Pie with Roast Potatoes Vegetables | Chicken Korma with Rice and Poppadoms Mixed Salad | Fish and Chips Peas | Bacon Roll |
| Main 2 | Roast Turkey in Gravy with Mashed Potatoes Vegetables | Grilled Salmon with Savoury Rice and Mixed Salad | Chicken Tikka with Rice and Poppadoms Mixed Salad | Omelette with Chips and Peas | Sausage in a Roll Veggie or Vegan Sausage in a Roll Sausage Roll (pastry) |
| Main 3 | Chicken Fried Rice Mixed Salad | Quorn Sausages with Roast Potatoes Vegetables | Quorn Korma with Rice and Poppadoms Mixed Salad | Beef Lasagne with Garlic Bread Vegetables | Beef Burger Quorn Burger in a Roll |
| Soup & Bread | Vegetable Soup | Lentil Soup | Sweet Potato and Chilli | Chicken Noodle Soup | N/A |
| Cold Sandwiches | Cheese, Tuna, Chicken, Egg | Cheese, Tuna, Chicken, Egg, Roast Beef | Cheese, Tuna, Chicken, Egg | Cheese, Tuna, Chicken, Egg, Roast Beef | Cheese, Chicken, Tuna, Egg, Ham |
| Hot Sandwiches | Garlic Mushrooms or BBQ Quorn | Vegetable Fajita or Chicken | Garlic Mushroom or Chicken | Veggie Nuggets or Chicken | Cheese and Ham Panini Cheese Panini Cheese and Tomato Pizzini Spicy Chicken Pizzini |
| Baked Potato | Beans, Cheese, Salad Bar | Beans, Cheese, Salad Bar | Beans, Cheese, Salad Bar | Beans, Cheese, Salad Bar | N/A |
| Pasta King | Cook's Choice | Cook's Choice | Cook's Choice | Cook's Choice | N/A |
| Pizza | Cheese | Cheese | Cheese | Cheese | N/A |
| Additional Veg | Vegetable Sticks | Vegetable Sticks | Vegetable Sticks | Vegetable Sticks | Vegetable Sticks Pasta Salad |