Happy New Year to all!!
Absence and Attendance Policy
In order to support good attendance and ensure that roles and responsibilities are clear, we have produced new documents on absence and attendance, these will be going 'live' from Monday. The relevant document is attached.
The absence and attendance document for Parents and Carers gives information for parents in relation to the importance of good attendance and how they can support the school with this. Please contact the school if you would like to discuss further.
Use of School Groupcall
To try and address the concerns raised by staff around the disrespectful language that is being used by some students and to work on improving punctuality after break/lunch we will be making greater use of Group Call to improve communication between school and home. The purpose of this is to ensure that parents / carers are made aware when their young person has been spoken to about using inappropriate language in school, late to school or missing from their timetabled class.
We will also continue to recognise positive behaviour with home being contacted regularly by email or phone along with the weekly hot chocolate event with HT.
Co-Op
There is no further update with regards to access to the Co-Op during the school day. The current ban remains in place and we will inform all if there is any updates or changes.
Staff Update
We are delighted to welcome back Miss Easton (Physics) on a phased return following her ill health.
Currently due to ongoing health issues, Miss Carragher and Miss Nisbet continue to be absent but are hoping to return as soon as possible. We also have a vacancy in French due to Mr Robertson moving on however we are hopeful to fill this post asap.
Prelim Study Leave
General study leave will run from Monday 13th January until Friday 24th January and during this period pupils are only required to attend school to sit their examinations. Pupils are welcome to use the school library for study during exam leave and are able to make appointments to see class teachers for help if required. We would ask that pupils are wearing school uniform when they are in school and sign in and out of the building. If pupils are coming in to school to study, we would ask that they arrive at the start of the day and/ or lunchtime in order to minimise disruption to the Office.
Prelim Assessment Arrangements Timetables
Groupcall messages were sent out this week for those young people who have assessment arrangements to collect their individual timetable from the office. Pupils have also been notified. However a significant number have still to do so. If your young person has not received an AA timetable, please arrange to collect before their exams.
Battlefields Trip
The 3rd instalment is now due. Please arrange for this to be paid via ParentPay or by cash or cheque to the office.
Please remember to confirm to the School Office whether your child has an EHIC card as this is mandatory for going on the trip and the deadline to apply for one is the end of January. If you do not have one by then, your child may not be able to attend the trip.
S3 DTP Vaccinations
All S3 pupils are due to receive their vaccinations on Thursday 20th February. Forms have been given out today to pupils and this must be completed and returned to the school office by no later than Monday 27th January.
CDT Payments
Just a reminder that payments are due to be paid for your young person's CDT classes. Payment can be made via ParentPay, please contact the office if this is an issue. The payments for each class are listed below:
S1 CDT: £2.00
S2 CDT: £6.00
S3 Practical Woodworking: £5.00
National/Higher Woodworking: £15.00
Parent Council Lottery
The Lottery numbers for December are 10, 13 and 20. There was no winner again so there will be a rollover with an estimated prize fund for January of £1000!!
After School Clubs
See poster below with information on all the activities taking place after school for pupils, and how to book a place.
Kelso Community Cinema
See poster below for this months films.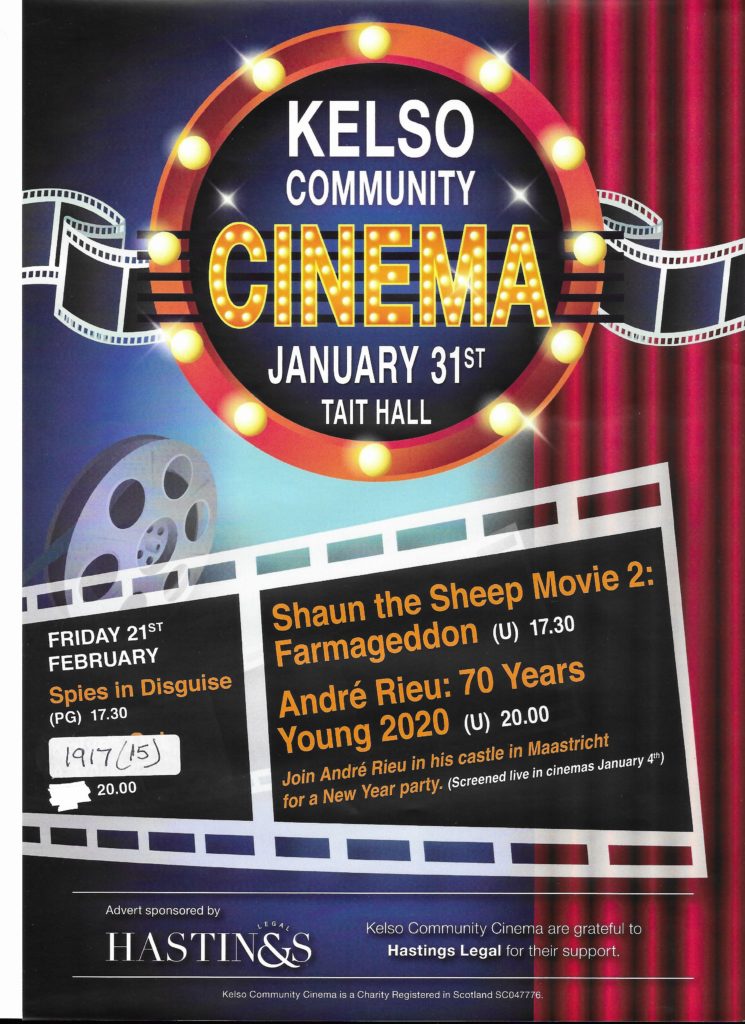 KHS Canteen w/c 13/01/20
| | | | | |
| --- | --- | --- | --- | --- |
| | MONDAY | TUESDAY | WEDNESDAY | THURSDAY |
| Scottish Favourites | Chicken Sausages with Mashed Potatoes, Pasta Bolognaise with Garlic Bread or Macaroni Cheese with Garlic Bread | Steak Pie with Roast Potatoes, Salmon Fillet with Roast Potatoes or Vegetable Chow Mein | Curry Day | Fish & Chips, Chicken Fried Rice or Quorn Sausages with Chips |
| Hot Sandwiches | Cook's Choice or Panini | Cook's Choice or Panini | Cook's Choice or Panini | Cook's Choice or Panini |
| Cold Sandwiches | Selection of Cold Sandwiches | Selection of Cold Sandwiches | Selection of Cold Sandwiches | Selection of Cold Sandwiches |
| Jacket Potato | Cheese, Beans or Salad Bar | Cheese, Beans or Salad Bar | Cheese, Beans or Salad Bar | Cheese, Beans or Salad Bar |
| Pizza/Pasta | Cheese Pizza or Pasta King | Cheese Pizza or Pasta King | Cheese Pizza or Pasta King | Cheese Pizza or Pasta King |
| Soup | Lentil | Tomato | Sweet Potato and Chilli | Vegetable |
Gluten Free options also available.
All these meals can always be ordered early in the day or on the day before as a Grab and Go to save pupils waiting at lunchtime.
Job / Apprenticeship Opportunities
https://www.scotjobsnet.co.uk/browse-jobs/scottish-borders/
http://apprenticeshipsinscotland.com/?s=&location=scottish+borders&ptype=job_listing&latitude=&longitude=&full_address=&north_east_lng=&south_west_lng=&north_east_lat=&south_west_lat=&radius=0