School Uniform
We have made the decision to switch supplier of our entire school uniform. All jumpers and ties will be produced and supplied by Fantasy Prints in future. More information will be coming out about this nearer to the Easter launch!
iPad's
In preparation for being 'Ready' to learn, it is vital that all our young people bring their ipads to school every day and that they have been charged. Please can I ask that you support the learning in the classroom by regularly reminding your youngster.
KHS Parent Council
The next meeting will be held on Tuesday 17th March at 6.30pm, all welcome!!
World Book Day
Thank you to all S1 who took part in our World Book Day celebrations. After watching the final of the S1 2020 WBD quiz, they then used their ipads to vote for their favourites in the S6 Fancy Dress competition. A huge well done to all the finalists and winners.
Careers Fair
Thank you to all our business partners, DYWBorders, parents/carers and young people who made this event a success. Feedback received so far from employers and business partners was all very complimentary of our young people as the asked lots of questions during the evening.
Rotary Technology Competition
Kelso High School entered three teams at the above competition which was held in Eyemouth on Wednesday. The task was to design and build a solution to an engineering task, which involved structures and electricity. The teams consisted of four pupils each and we entered a team from years S1-S3. All teams build a solution that met the criteria and were a credit to Kelso High School throughout. Even better, our S2 team of Ailsa Ogilvie, Jessie Norris, Jared Anderson and Tyler Swinton won the junior event. Well done to them.
Below are photographs of the winning team receiving their trophy and also our S1 team of Leah Manik, Pola Majowka, Amber Law and Bronwen Payne. Our S3 team was Rory McFadyen, Dougal Coates, Danny Malone and Robert Nairn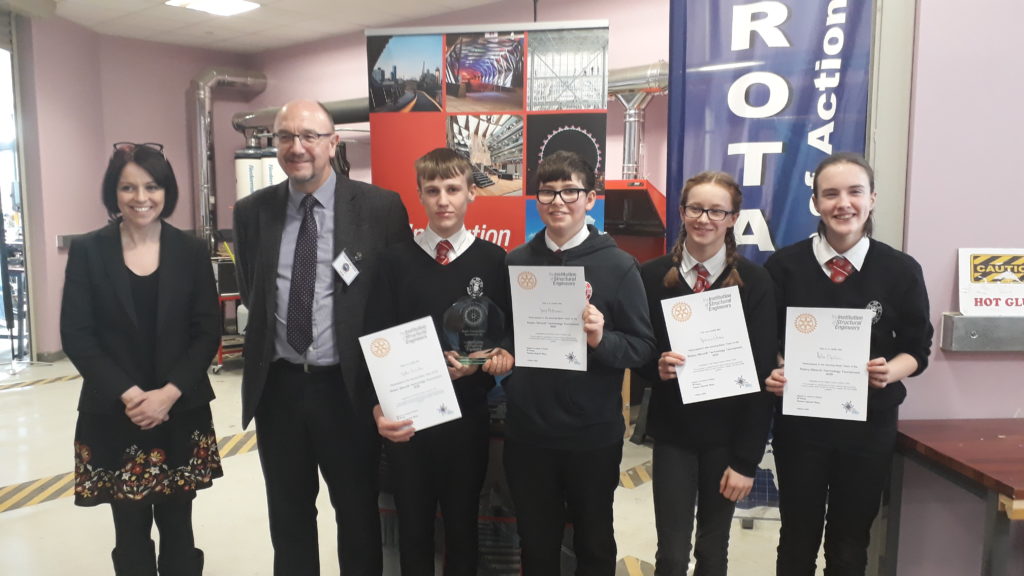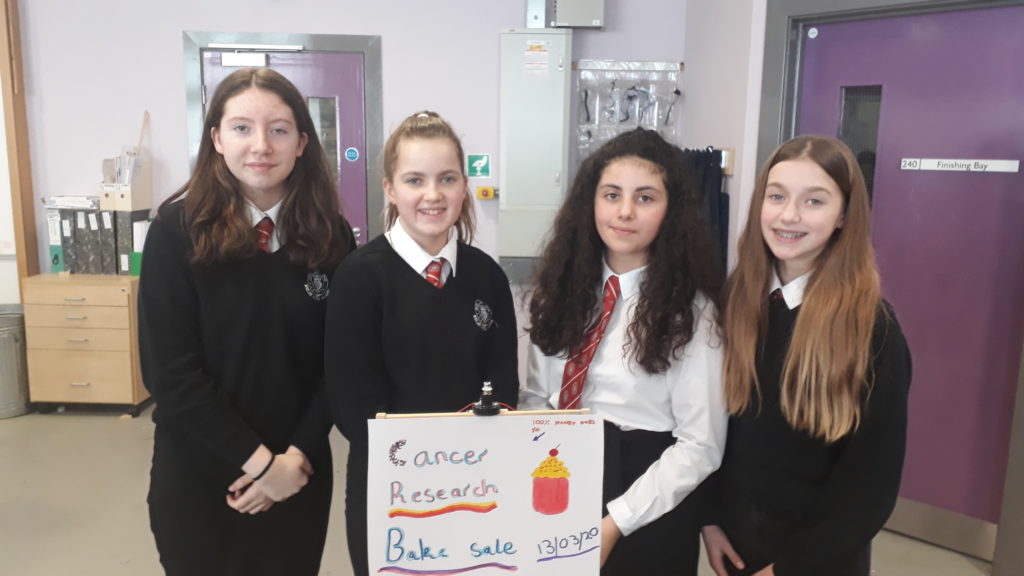 HPV immunisations Thursday 12th March 2020
All S1 pupils have received a HPV consent form.  This will be our first year providing this vaccine for boys as well as girls.
All girls who have already received a 1st HPV immunisation will automatically be recalled for the next one as 2 are required to be fully immunised.  Parents completed this consent form in previous years which covers both 1st and 2nd immunisations.  S2 girls who have not returned a completed form last year will be given a new one this year.
Please return completed immunisation forms to school office ASAP to ensure being given immunisations.
We cannot take consent over the telephone on the day from parents, as the session becomes very busy and we have to prioritise those who are receiving the vaccine.
Could you please ensure your child wears short sleeved shirts or vests under their shirt to ensure ease of immunisation and has something to eat beforehand.
Time slots are below –
| | |
| --- | --- |
| Time | Class |
| 9.30 | 1B1 surnames with initial A-M |
| 9.50 | 1B1 surnames with initial N-Z |
| 10.10 | 1B2 surnames with initial A-L |
| 11.00 | 1B2 surnames with initial M-Z |
| 11.20 | 1K surnames with initial A-Mc |
| 11.45 | 1K surnames with initial M-Z |
| 12.10 | 1T surnames with initial A-K |
| 12.25 | 1T surnames with initial M-Z |
| 12.45 | 2T1 girls |
| 14.00 | 2T2 girls |
| 14.25 | 2B girls |
| 14.40 | 2K girls |
| 15.00 | All those in S3 and above needing HPV immunisation 1st or 2nd dose |
Battlefields Trip
The 5th instalment is now due! Please ensure that this is paid as soon as possible either by ParentPay or by cash/cheque to the School Office.
Pupil Success
Well done to the Lauderdale under 13s football team which consists of 2 of our own young people within the team (Ross Wood and Harvey Smail). They have brought together a great team of boys from 6 different schools to play in the Edinburgh League. At the weekend they won their semi-final to progress to the division 4 cup final which will be played at the end of the season.
Their football is not the only thing that has received praise. They have been complimented on their excellent behaviour, fair play and sportsmanship throughout the season by the opposition and referees. Well done to all!!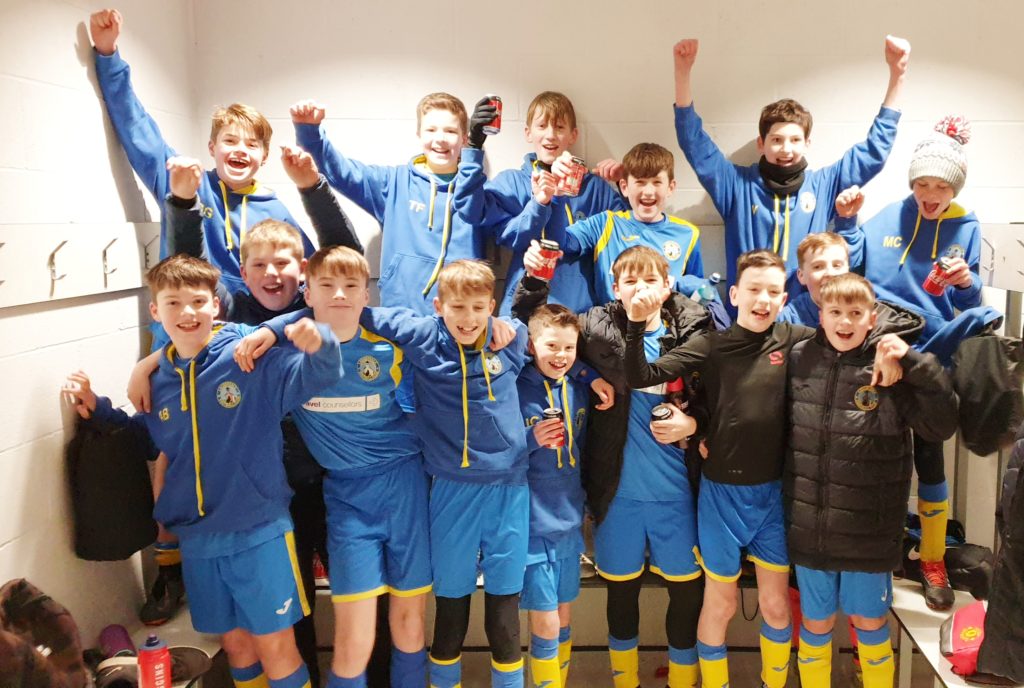 KHS Canteen w/c 09/03/20
| | | | | |
| --- | --- | --- | --- | --- |
| | MONDAY | TUESDAY | WEDNESDAY | THURSDAY |
| Scottish Favourites | Chicken Sausages with Mashed Potatoes, Pasta Bolognaise with Garlic Bread or Macaroni Cheese with Garlic Bread | Steak Pie with Roast Potatoes, Salmon Fillet with Roast Potatoes or Vegetable Chow Mein | Curry Day | Fish & Chips, Chicken Fried Rice or Quorn Sausages with Chips |
| Hot Sandwiches | Cook's Choice or Panini | Cook's Choice or Panini | Cook's Choice or Panini | Cook's Choice or Panini |
| Cold Sandwiches | Selection of Cold Sandwiches | Selection of Cold Sandwiches | Selection of Cold Sandwiches | Selection of Cold Sandwiches |
| Jacket Potato | Cheese, Beans or Salad Bar | Cheese, Beans or Salad Bar | Cheese, Beans or Salad Bar | Cheese, Beans or Salad Bar |
| Pizza/Pasta | Cheese Pizza or Pasta King | Cheese Pizza or Pasta King | Cheese Pizza or Pasta King | Cheese Pizza or Pasta King |
| Soup | Lentil | Tomato | Sweet Potato and Chilli | Vegetable |
Gluten Free options also available.
All these meals can always be ordered early in the day or on the day before as a Grab and Go to save pupils waiting at lunchtime.
Job / Apprenticeship Opportunities
https://www.scotjobsnet.co.uk/browse-jobs/scottish-borders/
http://apprenticeshipsinscotland.com/?s=&location=scottish+borders&ptype=job_listing&latitude=&longitude=&full_address=&north_east_lng=&south_west_lng=&north_east_lat=&south_west_lat=&radius=0