Our School Values in Action
Congratulations and well done to Suzanne Cowe, Admin Support who recently completed the London Marathon!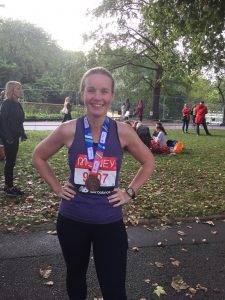 Disabled Parking Spaces
Please note that the disabled parking spaces at the front of the school are for Blue Badge holders only. We have a number of young people at Kelso High School whose parents/carers are Blue Badge holders and have been unable to park in the designated spaces. Any person parking in these spaces without a Blue Badge will be asked to move. This is both within the school day and during the evening sessions.
The area within the school grounds is only for school buses and disabled users and no other parent/carer should be using this to pick up or drop off.
Thank you
Armistice Ceremony
On the 11th November our school community will take part in our Remembrance ceremony outside our school building. We will be able to join together as a school to pay our respects to those who have lost their lives in conflict. Our S6 Head team will be visiting Registration classes next week to allow our young people to give a donation for a poppy.
Senior Assessments
The timetable for senior assessments is complete and will be published as soon as possible. We are waiting for confirmation from SBC regarding Covid mitigations. If any pupil has any concerns, please contact Mrs Wilson.
Flu Immunisations
These are taking place on Tuesday 9th November for all S1 to S6 pupils who have returned a consent form. Please ensure your young person has handed this in to the school office or they will not be able to get the vaccine. See timetable below for when each class will be getting theirs.
S4 Parents Evening
The booking system is now open to book virtual appointments for the S4 Parents Evening taking place on 16th November. All the information was emailed to parents this week.
Scottish Careers Week
Skills Development Scotland national webinar for parents and carers on the options and support available for school leavers
As part of Scottish Careers Week, Skills Development Scotland (SDS) has a nationwide online session for parents and carers covering options and support available for school leavers on Wednesday 17 November at 6.30pm.
Parents and carers can find out more about the range of options available for their young person as they prepare to leave school and how parents and carers can support them.
SDS Careers Advisers will be providing expert advice and there will be opportunities for parents and carers to ask questions during the session. Help is also available on SDS's online home for career information and advice My World of Work.
Please register for the event here: https://www.eventbrite.co.uk/e/school-leaver-options-tickets-195981003457
Find out more about Scottish Careers Week.
Job Opportunity for School Leaver – Borders Risk Management
We are looking for candidates with commitment, an eye for detail and someone who takes pride in their work. These attributes are required because a trainee account handler will be given the skills over a 2-year period to:
Provide new business quotations for insurances on request, providing relevant advice, information and guidance.
Take instructions from new Clients, ensuring cover commences at the correct time, all relevant paperwork is completed, premium is collected, and relevant records and diary entries are created
Take instructions from existing customers in respect of alterations to existing policies, ensuring insurers are notified and records updated
Offer renewal to existing Clients' policies with existing insurer or move to new insurer, as appropriate. In each case, ensure relevant paperwork is completed, premium is collected, and relevant records and diary entries are created.
Check thoroughly all Client documentation before despatch, ensuring appropriate queries are raised and amendments completed
Control your own diary system, ensuring all items are followed up by the due dates, particularly in relation to outstanding documentation from Clients or insurers premium payments (including direct debit).
Assist customers initially with enquiries relating to claims, either by direct involvement with insurer concerned if appropriate or providing contact names and telephone numbers for customers own direct contact
Provide back up to the Business when and if necessary, in performing the daily and operational routines of the company's computer system
Any general duties that may be required from time to time as required by the Business in accordance with the nature of the job.
Salary for Trainee £14-16,000 per annum (age dependant). We will also provide additional benefits and support additional insurance related qualifications.
Canteen Menu
| | | | | | |
| --- | --- | --- | --- | --- | --- |
| | Monday | Tuesday | Wednesday | Thursday | Friday |
| Main 1 | Macaroni Cheese with Garlic Bread Mixed Salad | Steak Pie with Roast Potatoes Vegetables | Chicken Korma with Rice and Poppadoms Mixed Salad | Fish and Chips Peas | Bacon Roll |
| Main 2 | Roast Turkey in Gravy with Mashed Potatoes Vegetables | Grilled Salmon with Savoury Rice and Mixed Salad | Chicken Tikka with Rice and Poppadoms Mixed Salad | Omelette with Chips and Peas | Sausage in a Roll Veggie or Vegan Sausage in a Roll Sausage Roll (pastry) |
| Main 3 | Chicken Fried Rice Mixed Salad | Quorn Sausages with Roast Potatoes Vegetables | Quorn Korma with Rice and Poppadoms Mixed Salad | Beef Lasagne with Garlic Bread Vegetables | Beef Burger Quorn Burger in a Roll |
| Soup & Bread | Vegetable Soup | Lentil Soup | Sweet Potato and Chilli | Chicken Noodle Soup | N/A |
| Cold Sandwiches | Cheese, Tuna, Chicken, Egg | Cheese, Tuna, Chicken, Egg, Roast Beef | Cheese, Tuna, Chicken, Egg | Cheese, Tuna, Chicken, Egg, Roast Beef | Cheese, Chicken, Tuna, Egg, Ham |
| Hot Sandwiches | Garlic Mushrooms or BBQ Quorn | Vegetable Fajita or Chicken | Garlic Mushroom or Chicken | Veggie Nuggets or Chicken | Cheese and Ham Panini Cheese Panini Cheese and Tomato Pizzini Spicy Chicken Pizzini |
| Baked Potato | Beans, Cheese, Salad Bar | Beans, Cheese, Salad Bar | Beans, Cheese, Salad Bar | Beans, Cheese, Salad Bar | N/A |
| Pasta King | Cook's Choice | Cook's Choice | Cook's Choice | Cook's Choice | N/A |
| Pizza | Cheese | Cheese | Cheese | Cheese | N/A |
| Additional Veg | Vegetable Sticks | Vegetable Sticks | Vegetable Sticks | Vegetable Sticks | Vegetable Sticks Pasta Salad |