As we come to the end of our second assessment window for our seniors, I would like to take this opportunity to say thank you and well done to all.  At Kelso High School we have incredibly hard-working, resilient teachers and hard-working resilient young people dealing with everything that has landed on us and making it work the best we possibly can.
To support the final stage of the Alternative Certification Model we will offer a third online presentation for parent/carers and our young people.  This will take place early next week, date/time will be shared directly with parents soon.
Additional Inservice Days (7th & 8th June 2021)
A reminder that KHS will be closed to pupils on Monday 7th and Tuesday 8th June 2021 for additional Inservice days.  These were additional days given to Secondary Schools only by the Scottish Government for this year only.  School resumes as normal for all pupils on Wednesday 9th June.
Use of Ice Rink Car Park
We would like to take this opportunity to remind our parent/carers and young people that this is a private car park. We do not have permission to use this facility as a drop off and pick up from school.
Vaccination Forms
Pupils due to get their teenage booster jags (S3+) and were issued forms, please hand these back to the School Office ASAP.
Order School Uniform
See attached flyer below regarding ordering school uniform from our sole supplier FP Uniformz.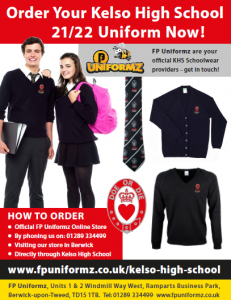 Rag Bag
A collection to uplift the bags is taking place on Thursday 17th June. We still have some bags you can get from the School Office and can hand back into the office prior to the collection date.
Lockdown Recipe Book
For all those who ordered a book and paid for it, the books can be collected from the Home Ec department. Please make sure you have paid if you want to get one. The final date for ordering is Friday 11th June. You can order a recipe book by emailing kelsohs@scotborders.gov.uk
Parent Council Update
📢FREE Anti-Bullying Webinars for Parents & Carers📢
We've added new June dates & times to our webinar series covering the following themes:
👉'Online Bullying'
👉'Bullying…It's Never Acceptable'
Join our training team to find out more about what you can do to support children and young people experiencing bullying online or in person and gain some practical take-away skills. Visit http://ow.ly/C42G50EZ0OK 👍
Canteen Menu w/c 7th June
| | | | |
| --- | --- | --- | --- |
| | Wednesday | Thursday | Friday |
| Main 1 | Chicken Korma with Rice and Poppadoms Mixed Salad | Fish and Chips Peas | Bacon Roll |
| Main 2 | Chicken Tikka with Rice and Poppadoms Mixed Salad | Omelette with Potato Salad Mixed Salad | Sausage in a Roll Veggie or Vegan Sausage in a Roll Sausage Roll (pastry) |
| Main 3 | Vegetable Curry with Rice and Poppadoms Mixed Salad | Beef Lasagne with Chips Mixed Salad | Beef Burger Quorn Burger in a Roll |
| Soup & Bread | Sweet Potato and Chilli | Chicken Noodle | N/A |
| Cold Sandwiches | Cheese, Tuna, Chicken, Egg, | Cheese, Tuna, Chicken, Egg, Roast Beef | Cheese, Tuna, Chicken, Egg, Ham |
| Hot Sandwiches | Quorn Burger or Chicken | Quorn Dippers or Chicken | Cheese and Ham Panini Cheese Panini Cheese and Tomato Pizzini Spicy Chicken Pizzini |
| Baked Potato | Beans, Cheese, Salad Bar | Beans, Cheese, Salad Bar | N/A |
| Pasta King | Cook's Choice | Cook's Choice | N/A |
| Pizza | Cheese | Cheese | N/A |
| Additional Veg | Vegetable Sticks | Vegetable Sticks | Vegetable Sticks Pasta Salad |
Job / Apprenticeship Opportunities
https://www.scotjobsnet.co.uk/browse-jobs/scottish-borders/
http://apprenticeshipsinscotland.com/?s=&location=scottish+borders&ptype=job_listing&latitude=&longitude=&full_address=&north_east_lng=&south_west_lng=&north_east_lat=&south_west_lat=&radius=0